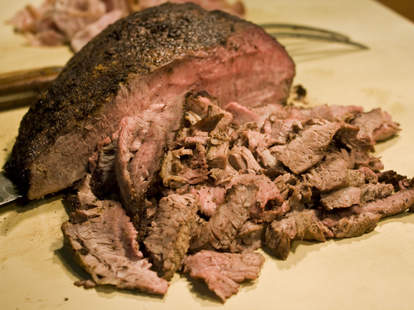 Presumably named to ride Dana's wave of success after his roll as "crazy puppeteer" in Jack & Jill, Cafe Carvy is a gourmet sandwich stop whose ceramic pillars and black 'n white tiled floors you probably won't even notice, as you'll be too focused on the meat, which's all hand-carved right in front of you (that's right: they make you watch).
Endless bread, meat, and condiment combinations await, thanks to over a dozen toppings (cranberry sauce, horseradish, guac), 12 kinds of delivered-daily loafage (pumpernickel, sourdough, ciabatta), and 10 lunch meats (roast beef, pastrami, corned beef) all slow-roasted overnight -- so for those doing the math, it turns out that more like 1200 combinations await, but whatever. If you're something of an early riser, CC has a full service coffee bar, plus all manner of pastries (muffins! donuts! oatmeal!), and is frying up croissant or bagel breakfast egg sandwiches w/ bacon, ham, and sausage, the skipping of which would make you the missing link.
And because what's a party without hand-carved sandwiches for people to shake up and spray on each other while listening to house music, Carvy'll also cater any event, and if you'd like, even wait until they're on site to cut the meat and do all the preparation for the rolls, to which the majority of people in Jack & Jill ask "why?".