Washington Circle gets clogged more pleasantly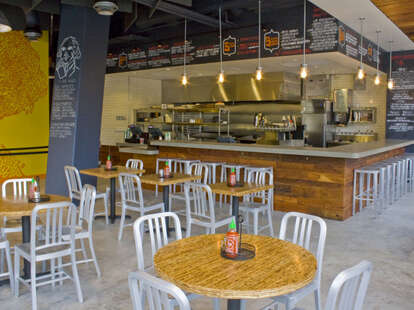 Ensuring that the recent influx of big-name burger joints from other cities doesn't mean DC chefs are forever playing ketchup: Burger, Tap & Shake, from the guy behind Cieba and K Street institution DC Coast, soft-opening for lunch this weekend.
A Washington Circle counter-orderer describing itself as "no-nonsense", BT&S eschews rubber chickens and flower lapels that shoot water at you in favor of rough-hewn reclaimed wood, a giant multicolored wall with George Washington's portrait (by noted urban street artist Jazi Rock), and tabletops made from sugarcane, on which you'll enjoy:
Hamburgers, Duh: All the beef's ground in-house before being "char-griddled" (given the open-flame treatment, then thrown on the griddle). Specialties include the Apache Sweat Lodge (with fire-roasted green chillies/ habanero jack), the bratwurst Badger (w/ sauerkraut/ beer mustard/ baby Swiss), and the two-hand-worthy, Benton bacon/ buttermilk bleu/ 'shrooms Big Daddy, which, like any Sandler movie since, you'll walk away from feeling like you've had more than enough.
Shaketails: Deliciously boozy churnings run from the vanilla bean vodka/ coffee liqueur/ vanilla ice cream Evil Empire, to the apple brandy/ botanical liqueur/ ouzo/ vanilla ice cream American Pride, to the Havana Club with honey liqueur, chocolate & vanilla ice cream, and "freshwater rum", about which pirates feel very conflicted.
Those Taps: Just like that trumpet song, they've got 20 spigots ready to put you to bed, including DC Brau's Corruption IPA, Anderson Valley's Boont Amber, and Stone's Arrogant Bastard, which is also how to describe any carpet-bagging burger kings who think they won't have to compete with DC's own!