Adams Morgan isn't known for having the most inventive food, so if there's a ramen spot opening, you know ramen must now come in giant pizza form be a pretty big deal at this point. Bringing ADMO the delicious soupy goodness: Sakuramen. Combining the Japanese words for "cherry blossoms" and …"ramen", Sakuramen's a subterranean noodle hideout complete with bamboo columns, a huge oak communal table, and an artistic rendering of Shoki, the Japanese guardian & "demon queller", so feel comfortable bringing that chick from The Exorcist here for a flirty nosh. Their seven-soup menu of family recipes is highlighted by: Seoul: This Korean-inspired take loads miso broth with garlic, ginger-marinated bulgogi, and a roasted, homemade kimchi that's "not overpowering", so it must not be North Korean-inspired. Western Style: They're considering renaming this bowl "DC ramen", so constantly pester your waitstaff about that while enjoying a soup with mild havarti cheese, green peppers, and a roasted pork that's cooked with apples/ ginger/ brown sugar before being finished with a blow torch. DIY: That's not some strange Asian word you can't pronounce -- it just stands for "do it yourself". That's right: start with either miso or shoyu broth (pork, beef, or veggie base), pick basic toppings, then add extras like homemade garlic & pepper oils, a soft boiled egg soaked in a soy/ sake mixture, and a dangerous hot pepper paste called "fireball". For your pre-ramen pleasure, they're also cooking up beef bulgogi & pork chashu buns and pan-searing handmade pork dumplings, all of which are more than capable of making you a pretty big deal by the time you walk out of there.
Recommended Video
Escape to This African Island Where Life Is Slow and Sweet
Previous Venue
Next Venue
Venue Description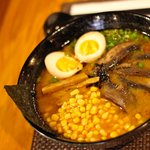 1. Sakuramen
2441 18th Street NW, , Washington, DC , DC 20009
This subterranean noodle hideout (seriously, hide from the Adams Morgan crowds here) sports bamboo columns, a huge oak communal table, and an artistic rendering of Shoki, the Japanese guardian and "demon queller." Their selection of buns is well worth your time -- from spicy sweet pork to mushroom. Consider pairing them with their traditional shoyu gojiramen (chasu pork, scallions, nori, and sprouts) or the meat-lover's shoki bowl, filled with extra chashu and bulgogi.