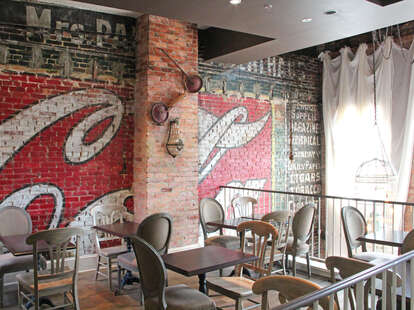 Not since your older brother convinced you that the fibrous pink stuff was cotton candy has anyone said "bon appetit" in an attic. Finally providing cuisine worth the climb: Le Grenier, opening Saturday on H Street
From the Le Chat Noir folks, Le Grenier is named for the French word for "the attic", and for good reason: an eclectic collection of antiques bulge out of every corner of the two-floor bistro, while banquettes with vintage headboards look out onto hanging birdcages, aka a position Robin Williams and Nathan Lane's characters perfected in that movie. Coincidentally, the steak is also hanger (it's served in shallot-red wine sauce w/ frites), and it tops a group of entrees including duck breast, and braised pork in tamarind & turmeric sauce w/ pearl onions. Booze includes eight reds & whites by the glass, and then there're five specialty cocktails, like the tequila platino/ agave/ mescal/ lavender rinse "Zapata", and the "Le Petit Chaperon Rouge" with whiskey, honey, French truffle liqueur, and "ginger garnish", not to be confused with Lindsay Lohan's nickname, "Ginger Garish"
And should you find yourself strolling H Street on a weekend morning (you dog), brunch à la Norvégienne (two poached eggs, sautéed spinach, smoked salmon & hollandaise). Then order your date (they love it when you do that!) a pistachio/ honey lavender/ vanilla ice cream crepe, marking the first time someone in an attic's said "it tastes like crepe" since Steve made you eat that insulation.