Dance & eat until you're gasping for air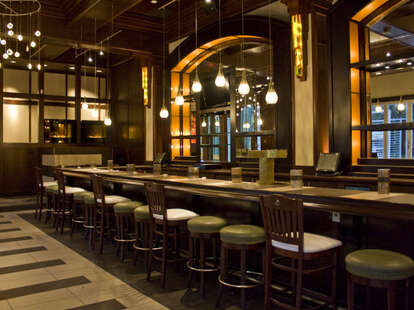 You'd think it wouldn't be that hard to introduce some real nightlife into Bethesda, what with everyone having limited expectations after hitting Rock Bottom. Wedging a slick night spot right in there: Cesco Osteria and Co2 Lounge.
An attempt to "blend the old and the new," this hybrid moves the existing, Tuscan-traditional Cesco Trattoria into a new, stained glass-heavy Bethesda space, then pairs it with the massive Co2, decked out with an LED-lit floor, white lounge seating, Co2, decked out with an LED-lit floor, white lounge seating, and a DJ booth illuminated by fireplace LCD screens, so presumably they'll be bumping Nelly's "It has the illusion of getting hot in here, so take off all your clothes". Designed by well-known chef Francesco Ricchi, the menu's entrees range from a filet alla zingara (sautéed with mushrooms/ peppers/ truffle), to sautéed prawns & scallops bathed in marsala with crispy polenta, to a tilapia alla "Livornese" with airy "chickpea popcorn", which was consumed en masse during matinees of My Big Fat Greek Wedding. Made using artisan juice bar Puree's freshest, 'tails in the lounge include the bourbon/ lemon nectar/ elderflower Room 18, the muddled mint & cucumber/ Prosecco/ vodka Southside, and the gin/blackberry liqueur Bramble, not to be confused with "B-ramble", which is the name of Dennis Miller's rapper character in an upcoming Eight Mile sequel.
And as if the lounge wasn't bumping things up enough, they're planning on building a full-on speakeasy accessible through a secret door next to the DJ booth, replacing Bethesda's more familiar "speak quietly, or the neighbors outside Rock Bottom will complain again".