Jose's truck is delicious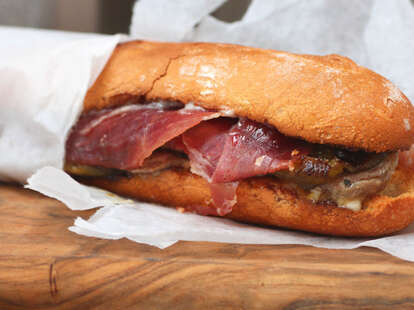 Ensuring that the next Sh*t DC People Say includes "Is this Jose Andres' food truck?", the man, the myth, the Jose is now taking his District domination to the streets with Pepe. Borrowing the chef's nickname, the truck serves up all kinds of Spanish flautas, and rocks a metallic silver exterior with black stenciling for a sort of SWAT assault vehicle look, which makes sense, as anything Andres puts his name on is pretty much bulletproof. Baguette your hands on:
Pollo Fritto: Cruelly not coated in delicious Lay's chips, this chicken breast is at least fried and bolstered with piparra peppers and aioli.
Butifarra "Burger": This Spanish pork patty is slathered with aioli and "brava sauce".
Pepito de Ternera: Seared beef tenderloin gets topped with caramelized onion, piquillo pepper confit, and blue cheese, ironically meaning nothing can top it.
Pepito de Iberico: Seared Iberico pork and Serrano ham together in one sandwich??!
Futbol Club Barcelona: This thing's basically a BLT jacked up with thinly sliced chicken bacon, and coated with shallot mayo, so expect things to get Messi.
And -- assuming you're still reading and haven't already run out to find the truck -- you'll be happy to know it's also dishing patatas bravas, seasonal soups (currently chicken noodle), non-alcoholic sangria & Pepe Tonic, and a hazelnut ice cream/chocolate cookie sandwich so good, people incredulous that it was made on a food truck will surely ask "but where is this from originally?".