Get the door, it's something way better than Domino's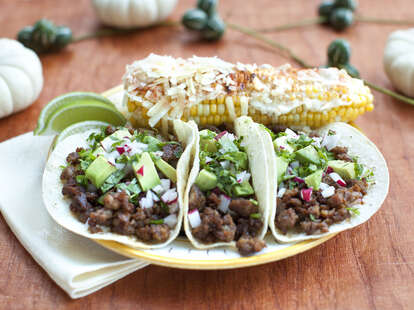 No one's talking about social networking anymore -- turns out the next big thing is eating, as evidenced by the fact that start-up-minded Harvard grads have created Plated.
Just launched in DC by two buddies who met at HBS, Plated lets you enjoy the fun of cooking while avoiding the egregious process of grocery shopping (ie being around other people who enjoy cooking), delivering gourmet ingredients and step-by-step instructions from big-time chefs. Sign up for a weekly meal plan to receive two, three, or five pre-portioned dinners per week for up to six people -- everything takes around 30mins to prepare, and it's all sourced locally. They'll add five new recipes a week for you to choose amongst, which currently include stuff like gulf shrimp piri piri from Harlem's famed Red Rooster, and pasta carbonara with edamame from NY Times food writer Daniel Meyer, who is not, in fact, restauranteur Danny Meyer, but does write cool stuff like "on a cold fall night, nothing is more comforting than curling up with a warm bowl", thus taking the term "ca-noodling" to a whole new level.
And they're offering a Thanksgiving special to be delivered Tuesday 11/20 (everything from the bird, to low-Cooked Sausage Stuffing) for $28/person, but the normal plans are way cheaper, working out to around $8 per person per meal, so why not purchase two per night, and have the next big thing be you?