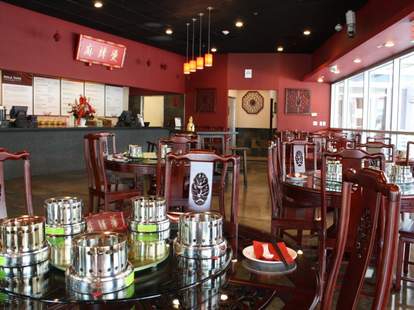 Finding authentic Chinese food is tough, as most places just serve Americanized crap, and Panda Express is almost always out of actual panda. Ensuring that at least authentic Sichuan cuisine doesn't become extinct: Mala Tang.
Bringing Clarendon "the essence of the real dining culture in Chengdu", Tang serves real-as-it-gets Sichuan street-eats and authentic "hot pots" amidst an interior modeled after the renowned Jinli Street, which's apparently full of hanging lanterns, ornate glass tables, and murals of itself. The metal hot pots are brought to your burner-equipped table to cook, and consist of your choice of mild or mala (basically, spicy) broth, veggies like bok choy, seaweed, lotus root, and wooden ear mushrooms (they exist!), and protein including milk- or wine-marinated beef, squid, or "fish balls", also what Andy Dick plays on Halloween instead of bobbing for apples. For those who don't care to be potted, there's a walk-up counter serving "Xiao Chi" street food like Dan Dan Noodles with minced pork/ Sichuan pepper/ housemade soy sauce, the tender Mapo Tofu in savory red sauce, and a plate of spicy cinnamon- sprinkled dried beef strips, marking the first time you can proudly announce that you went to Arlington for some Chinese jerky.
To drink as they do in the Mysterious Orient, they've also got a stock of Asian beers like China's Harbin, Japan's Asahi, and Singapore's Tiger, which those deceptively misnamed Marts also always seem to constantly run out of.