Now <em>you'll</em> want to participate in limitless spending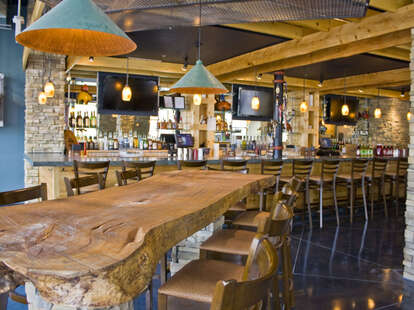 Proving that Senate budgetary debates can actually be fruitful as long as they're not being conducted by Senators: Pork Barrel BBQ, whose owners dreamt up the concept after (while?) staffing a late-night congressional sparring match on the Hill.
After pumping out some award-winning sauces and rubs, the PB boys are just now ready to open their first location, which rocks (literally!) a 40ft green Brazilian soapstone bar, barn wood on the tabletops & butcher station, a huge communal 100yr-old maple table, and a multi-spigoted "draft beer tower" -- strangely, a more productive move than taking Jamaal Charles. Get all up in:
The Food: Their 500lb-capacity "Southern Pride" smoker'll be spitting out 12hr brisket, 10hr pulled pork, and 5hr chicken and spare ribs (plus sausages, but their cook time is unimpressive), all of which can be served by the pound, in sandwiches, or plated with sides like smoked mac & cheese, Texas Caviar (essentially a spicy bean), and a smoked veggie medley they call Redneck Ratatouille, also a cannibalistic sequel collab'd on by Pixar and the guys who made The Texas Chainsaw Massacre.
The Drink:The aforementioned tap tower'll be pouring the likes of Star Hill Brewery's The Love hefeweizen, New Belgium's Fat Tire amber ale, and Tallgrass Brewing Co's Buffalo Sweat sweet stout; plus, they'll be bringing in 15-20 vintage-y sodas like Big Red, and one called Cheerwine, "cheer, whine" having already been patented by the Senate.