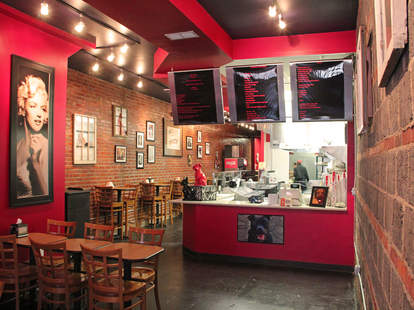 "Keep it simple. Everybody loves a hot dog".
Had you been given the same advice from your dad that the owner of Haute Dogs & Fries was from hers, umm... you would also own a gourmet hot dog joint in Old Town... meaning you two would be splitting the market... meaning that said advice actually wouldn't have been good. So instead of thinking in brain-frying "what ifs", just get down to Haute Dogs, where they're manicuring meat-tubes amidst brick and cinder blocks decked with paintings & pictures of dogs, and framed prints from the cover of fashion mag Couture, because these dogs are seriously juicy
The base dogs are the same as Boston's famed Fenway Franks, but each of the 13 signatures is hit with hearty toppings like caramelized onions/ mango/ pineapple/ jalapeños on "The Bombshell", and secret homemade chili/ cheese/ chopped onions on "The Three Piece" -- after eating it, you'll be glad to have that stomach-concealing vest. If you're dog-tired, there are also Maine lobster rolls, grilled lamb sausage sliders with a mint sauce, and hand-cut Idaho sweet potato fries they call "sweet yams"
Any ballpark dog should come with a beer, so they're running four drafts (including Fat Tire), and a handful of bottles like New Belgium's Ranger IPA and Guniness, which they're also tinkering with to create boozy shakes, just in case your brain wasn't already fried.