Senart's Oyster and Chop House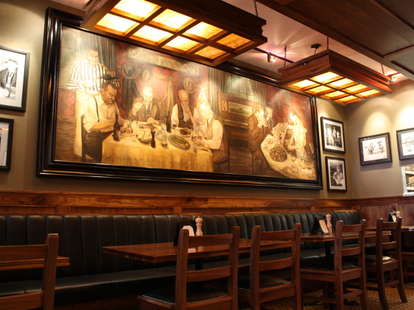 Reincarnation isn't always the most appetizing phenomenon, as people sometimes come back as butterflies, sometimes as cockroaches, but almost never as deliciously plump free-range chickens. Bringing a meaty resto back from the dead: Senart's Oyster & Chop House.
Built in the shell (and spirit) of the original Barracks Row oyster house that closed down in 1939, the new Senart's is a haven to the butchered and bivalve'd: a classic chophouse covered in marble, South Carolina walnut, and old-timey photos of DC, all lit by skylights cut into a recess that once housed the Senart family's one bedroom apartment, where a lack of privacy and abundance of oysters probably resulted in some really awkward nights. Pre-oyster randiness comes via 16 drafts (from Oskar Blues Old Chub to Long Trail Double Bag), and specialty 'tails like the "Hair of the Dog Oyster Shooter" (with the mollusk washed down by horseradish-infused vodka & Bloody Mary mix), and the ice-filled sweet tea vodka/ lemon "John Daly Crush", also the catchphrase the shirtless monster had to settle for after learning The Hulk already copyrighted "smash". The meat's highlighted by a bone-in herb roasted prime rib in a red wine sauce, while cooked seafood includes a cippino with garlic crostini & tomato fondue, and a feast of whole lobster/ oysters/ clams/ shrimp/ mussels called the "Senart's Chilled Seafood Feast", a dish Red Lobster's copyright lawyers are looking into... just as soon as they finish up with The Hulk.
Further shell-age includes fresh 'sters in red wine mignonette & cocktail sauce, and Cherry Stone clams on the half shell from a raw bar that's half off from 3-6p, meaning it'll have you coming back as a plump...you.