da Campo Osteria by Todd English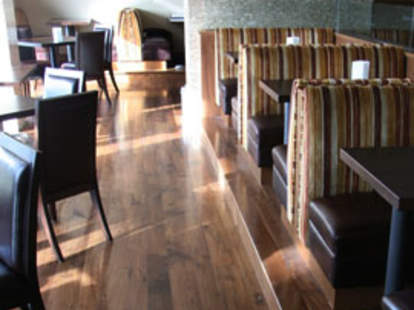 Whether you're a very old person from the Northeast, or a very young person named Elian, eventually, everyone succumbs to the allure of South Fla. Finally giving in to our region's sweet temptation, Todd English, with his da Campo Osteria in Ft. Lauderdale.
A three-time James Beard winner famed for restos in Boston, NYC, DC, Vegas, Aspen, LA, Palm Beach, and Disney World -- and for inclusion in People's 50 Most Beautiful list (so he's as beautiful as...Seal?) -- English is now opening a breezily modern Northern Italian spot overlooking the Intercoastal Waterway in the il Lugano hotel. The dining space is intimate but airy, with dark hardwood floors, leather seating, and an open brick-walled kitchen sporting a mammoth wood-burning copper oven handmade by the "J.D. Salinger of copper oven makers" (the man behind The Catcher in the Pie). Hearty grub includes homemade pastas, flatbread pizzas (fig & prosciutto, 'shroom & truffle cheese) and grilled entrees like sirloin w/ red onion jam, plus tableside mozzarella preparation: curd dipped in boiling water, stretched onto a plate and dolloped with flavors ranging from the simple (sea salt, olive oil) to sweet (honey, spiced walnuts, currants) to spicy (pickled peppers) -- basically, the steamiest food p**n since...The Catcher in the Pie
da Campo arrives rocking a full bar and an Italy-intensive wine list, and also serves up desserts such as gelato with lemon and coffee malt, honeycomb chocolate mint, and a honey-ricotta "donut" -- whether you're a famous chef, or a cop, everyone succumbs to the allure of Donut.