From stuffed shrimp to Olive Garden breadsticks: great food from surprising chains
Most sit-down chain restaurants aren't considered to house the hautest of cuisine, but you've been to them, and you've devoured the skillet queso dip, and only the most foolish of you have felt ashamed. These places bring the Jack Daniel's-powered noise, and we want to eat it all. Or at least the stuff below.
Chili's Southwestern Eggrolls
What, you like the stuff they normally put in eggrolls better? Eff you. These delicious chicken & cheese heart-bullets paved the way for upscale-er restaurants to unleash all kinds of other Asian rolls that weren't filled with sprouts and ground-up shrimp eggs, like the Cheeseburger Spring Rolls at this pretty fancy lunch spot down the street from the Thrillist offices that's always filled with hot chicks, some of them eating Cheeseburger Spring Rolls.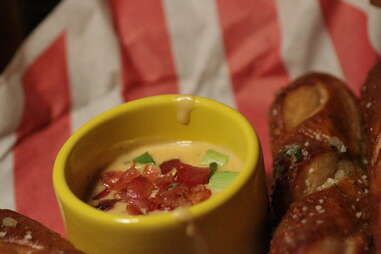 TGI Fridays' Pretzels with Beer Cheese
Is this really beer cheese? Of course not. Surely somebody spilled some into it at some point, but that's about it. Also, it doesn't matter. It's delicious processed queso of the highest order, and it attaches itself to the pretzels -- which are painted with salt and garlic-something-or-other flavoring, and are the size of a robust bratwurst -- like so much velcro, to the other side of velcro. Also they somehow have, like, 5200 calories, which is the ultimate mark of quality for a largely bread-based dish.
TGI Fridays' Sesame Jack Chicken Strips
Fridays has an entire, well-publicized lineup of Jack Daniel's-infused munchables (brand synergy!), but these little panko-crusted beauties are all you need to worry about. You know how, when you order sesame chicken from a Chinese place, you just want to start shoving the pieces in your face immediately? It's kinda like that, but with whiskey.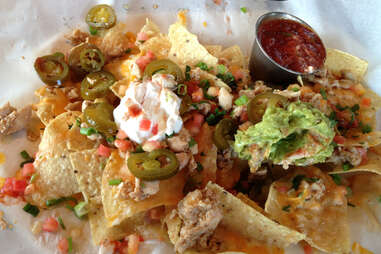 Houlihan's Chipotle Chicken Nachos
"Hellaciously good" was how the bartender described these when I asked how they were. Was he hellaciously correct? He hellaciously was. The all-important commitment to cheese-layering was above even Mexican restaurant standards, the chicken wasn't cut into those unweidly huge chunks the size of two chips, and the salsa was bizarrely fresh. They were more delicious than literally everything I ate at a fancy wedding an hour later.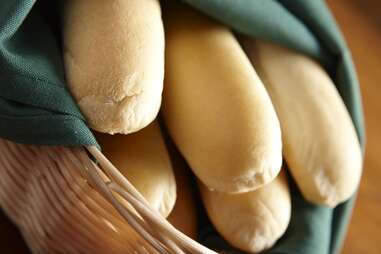 Olive Garden's Breadsticks
Hypothetically, if the Olive Garden decided to stop serving their fluffy, butter-ready breadsticks, how fast would they go out of business? 30 seconds? 15 SECONDS?!
Applebee's Clubhouse Grille
Turkey. Ham. Double cheese. BLT. Honey BBQ on one piece of toasted bread, mayo on the other. Thomas Keller himself couldn't assemble a greater symphony of flavors. OK, that is flat-out untrue, but it is a damn find sandwich. Why yes, Applebee's, I'd LOVE to eat good in your neighborhood.
Joe's Crab Shack's Crab-Stuffed Shrimp
It's like a jumbo shrimp and a crab cake had sex with each other, but they invited you in to make it a three-way. And then you ate them both, which was kind of uncool of you, but whatever, they're delicious.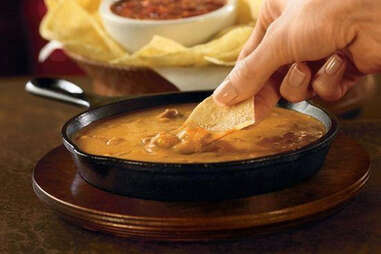 Chili's Skillet Queso
Yes, cheese and chili in a damn hot skillet is ALWAYS going to be awesome. But this is just part of what makes the queso such a handsome call. It usually comes with a side of their severely underrated, runny as sh*t, quite refreshing salsa, plus homemade tortilla chips that are model-thin, and so, so, so salty.
So this is what you do: 1) scoop up that hot queso, and stuff the queso-covered chip in your mouth. 2) Now, quickly grab up some salsa on a new chip, and shove that in your mouth at the same time. The hot chili and cheese will blend with the fresh salsa and the salty tortilla, and your mouth will start grinding seductively with your taste buds. Now wash it all down with a sip from your IBC root beer that you're pretending is a beer because you're 13 and you're dating Kate Boardman and you're effing cool as hell.
O'Charley's Yeast Rolls
Technically, they're Yeast Rolls, but they need no such modifier. They are the complimentary bread item by which all other are measured. A bit sweet with a soft, super-thin crust and whipped honey butter that's simultaneously completely unnecessary and essential. Oh, Charley! You did it, Charley.