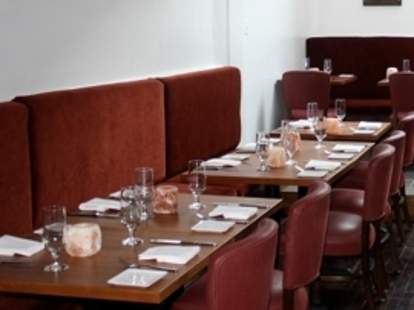 Of all the things a host can offer his guests, nothing tops booze as the most sure-fire way to get things poppin', assuming the guest list doesn't include Plaxico Burress. For a follow-up restaurant taking that maxim to heart, fish.
Buoyed by the success of his Bella Vista BYO Little Fish, owner/Chef Mike Stollenwerk went and secured a liquor license for his second seafood-centric resto, which opens Monday in Astral Plane's former double storefront, now split between a fully-stocked, polished-granite-topped bar (complete w/ raw bar), and a 40-seat dining room w/ wooden tables, burgundy chairs salvaged from recently fallen Sovalo, and velvet banquettes lining gold/white walls adorned with sculptures playing homage to the restaurant's namesake that thankfully aren't scratch & sniff. The menu's broken down based on how things're prepped & served, from "Raw" selections like several rotating varieties of oysters, fluke ceviche, salmon roe w/ celery root mousse, and black bass crudo that's cured on its Himalayan salt block "plate", to "Cold" goodness like octopus carpaccio w/ pistachio crema; bluefin tuna w/ scrambled cauliflower & anchovy vinaigrette; and king crab w/ arugula & pine nuts in Akudjura vinaigrette -- made with tomatoes harvested from an Australian bush, which's hopefully not also true of the crabs. On the "Hot" front, fish.'s dishing Maine scallops w/ capers & brown butter aioli; lobster chitarra w/ sea urchin, fennel & tarragon; and striped bass w/ cavatelli, chile, wild clam & preserved lemon -- much like your uncle's '79 Pinto, thanks to his wise investment in a car cover.
Booze-wise, specialty cocktails abound, from an old fashioned made w/ Old Bardstown bourbon and a straightforward Pimm's Cup, to the gin/lemon juice/simple syrup/cava Spanish 75 and a sidecar fueled by Marie Duffau armagnac, Cointreau & superfine sugar -- which is exactly what Plaxico's roomie'll be calling him for the next 20 months.