A Dummy's Guide To Maintaining A Gorgeous, Manly Beard
All Photos: Anthony Humphreys
Right now, legions of mustachioed men are counting down the minutes until December 1st to finally rid their upper lips of the hair they've grown in support of Movember. However! There are also an untold number of newfound beard enthusiasts out there who've no doubt taken a liking to the look and feel of facial hair.
For the latter bunch, here's a quick and simple primer on keeping your new beard looking fresh and healthy for as long as you decide to hang on to it.
As with the hair on top of your head, it's important to treat your skin and body first. According to expert beard grower, and founder of Beardbrand, Eric Bandholz, that means maintaining a balanced high protein diet aided with supplements like biotin and fish oil, while keeping smoking and stress to a minimum.
Though the real trick is upkeep. Bandholz advises only shampooing the beard once or twice a week, but sticking to a strict regimen of beard oil as soon as you step out of the shower, "when your pores are still open".
The oil penetrates and moisturizes the follicles, helping to prevent breakage and wiriness so it's more manageable as it grows out.
But with so many oil options out there, which is right for you?
We enlisted the four bearded men of Supercompressor to review a handful of those from some of our favorite brands for a few days. Here are our findings.
The Bearded Bastard's lineup, including their Barber Shop, Woodsman, and Simply Vanilla scents, were a hit. It even took senior editor Alex Robinson to an existential level: "I smelled as though I had spent the majority of my day felling, when in reality, I'd just been at a computer reading the Wikipedia page about what exactly 'felling' is." On related note, if you enjoy the occasional hint of delicious sugar cookies all day long, Simply Vanilla is well worth a shot.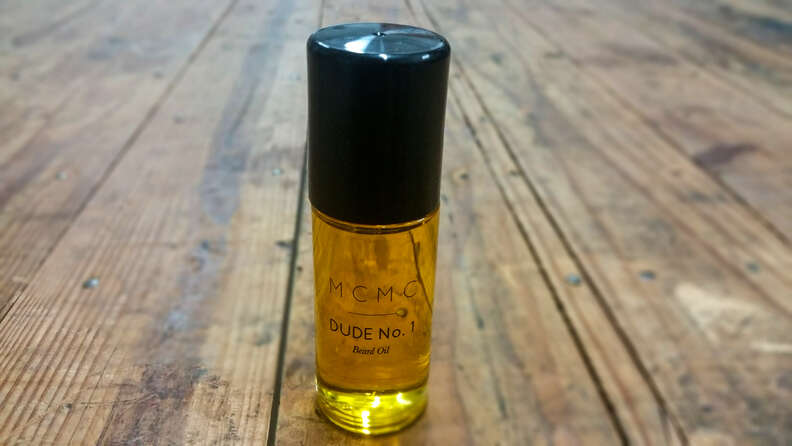 At $65, frankly, the Dude No. 1 Beard Oil from MCMC fragrances had us expecting a lot. It delivered, though, with hints of pepper, sandalwood and ginger that pleasantly wafted throughout the day. A premium pick for sure, but worth it.
Portland General Store's Whiskey oil is handcrafted in Maine from an updated classic 1920s-era recipe. Thankfully, though, it doesn't cause your whiskers to reek as though you've been boozing it up since 8 a.m. The blend is fairly subtle with notes of smoke and mulling spices that build over the course of the day.
Vice editor Jeremy Glass was, shockingly, drawn to Beardbrand's Four Vices oil, which boasts notes of coffee, tobacco, hops and hemp. "I felt greasy, but I smelled wonderful—so I was conflicted. [It] smelled like coffee and contraband and I like most of those things."
Each of the four oils in the sampler pack from Brooklyn Grooming, including their Commando, Fort Greene, Williamsburg, and Red Hook varieties, brought something distinct, though the two standouts were clearly the Commando and Fort Greene. The former, as its name suggests, focuses purely on function and is thus unscented, while the latter provided one of the freshest-smelling experiences thanks to notes of rosemary and lavender.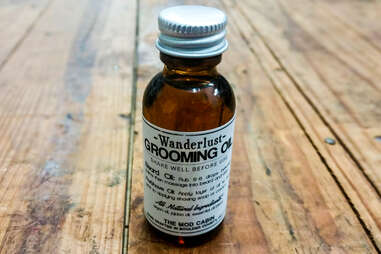 The Wanderlust Grooming Oil from Colorado's The Mod Cabin felt like the the most authentic old-school offering of the bunch, even looking the part in its antique apothecary labeled vial. Scent-wise, we caught notes of cedar and jasmine, which ultimately brought Executive Editor Ted Gushue a sense of true gratification, feeling as though he "Smelled like I was someone who woke up and knew exactly what they wanted to smell like that day."

Joe McGauley is a senior editor at Supercompressor. His beard is going gray, but don't tell anyone.