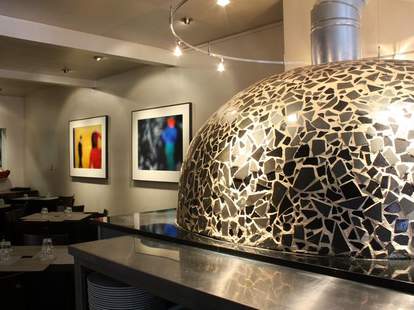 There's no shame in bringing in a ringer for a specialized mission, unless that specialized mission is a comedy about the Special Olympics, called The Ringer, in which case there's just not enough shame to go around. Bringing in a Neapolitan master to fire up some special pies: Il Canale.
Serving upscale Ital from a canal-side Gtown backstreet, Canale's a brightly modern, two-story 150-seater whose ground floor's dominated by a neon-lit bar and an imported, ceramic-domed wood-burning pizza oven helmed by a Naples-born "pizzeola" whose family's been in Italy's pie game since 1870, the same year Domino's made their famous promise, "3 days or it's free". The oven's brick interior reaches 900 degrees, meaning it only takes 60 seconds or so to pop out the bufala mozz/ricotta/prosciutto crudo "La Regina", the fresh basil/spinach/sausage "Georgetown", or the "Primavera", with sliced tomatoes and "handpicked baby spinach", whose mother's constantly telling it to "eat your damn self". If you're not a pie guy, they've got pastas like linguine alle vongole and the creamy Parmesan "Vulcani alla Carbonara Leggera"; and secondi like a porto wine reduction filet mignon and "Branzino al Cartoccio" -- baked in parchment paper, which Indiana Jones will whip off your plate just before you sink in your fork.
Come springtime, they'll also be opening a 28-seat rooftop terrace, perfect for a romantic date, dinner with pals, or...having a special friend drop watermelons onto your groin!