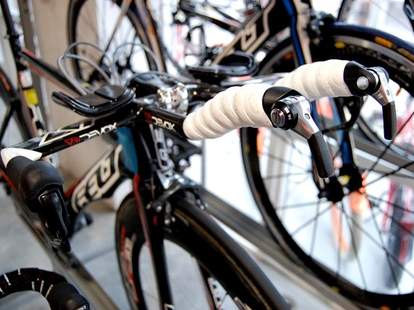 Back in the day, a bike signified that you were growing up, represented total freedom, and seemed like the most logical place to store your Andy Van Slyke cards. Well, it's time to ditch the Mongoose and grow up even further, at All 4 Cycling.
From a couple cycling-obsessed Venezuelans, All 4's an unusually spacious bike shop specializing in crazy-high-end, tough-to-find performance road and mountain bikes, and offering pro-level services, all conveniently located near where you can get serviced by a pro. Rarefied road boys include the American-made Felt DA time trialer optimized for aerodynamics (knife-like frame, recessed wheels, internal cable routing); the Felt AR1 Team Garmin (used by top US Tour de France '09 finisher George Hincapie), with a carbon fiber frame and flat, air-slicing spokes; and one you can pick up with two fingers: the 12-lb Specialized S-Works Superlight Tarmac w/ the lightest crank on the market and super skinny tires that're glued on to the rims with no inner tubes, making them much tougher to fill with beer and leisurely drift down rivers on. Mountain-ready two-wheelers include the Turner Flux, with adjustable dual suspension and a compact aluminum frame for maximum maneuverability and climbing leverage, and the pro-level Specialized S-Works Stumpjumper 29er (which costs about as much as a Smart Car) with hydraulic disc brakes, 29in wheels covered in massive knobbies, and on-the-fly adjustable suspension system for differing terrains they call the "Brain", designed to extend the usefulness of your own.
All 4's also got a certified fit specialist who'll make micro-adjustments in your bike's top tube, stem length, pedals, and seat position to maximize power/efficiency, and a cycling nutritionist who'll measure your body fat, put you on a really fast treadmill, and give you a VO2 Max test, then devise a dietary and workout plan for your specific goals, even if they're just "get pegs, even though Mom says I'm not allowed".