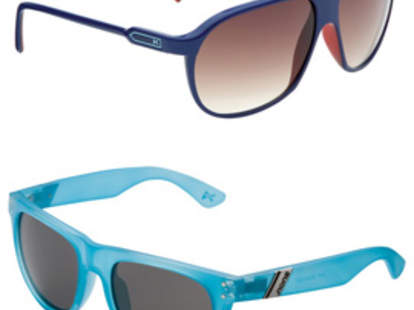 Smart providers of niche goods often expand to make stuff with mass appeal, like Suzuki deciding to make cars as well as sport bikes, or North Face deciding that mountain-ready technical gear works best when worn by every single person in the Marina. Expanding beyond the snow-bros with fresh shades, Anon.
A small Burton subsidiary that's 'til now stuck to the slopes slinging goggles, Anon's dropped a colorfully rad line of street-ready sunnies that're fitted with polycarbonate solid or gradient lenses, and largely borrow their silhouettes from throwback 60s/70s steez embodied best by that sweet Todd dude your mom dated before she met your dad. Choicely flamboyant pieces're made of durable Grilamid plastic, like the flat-bridged, beach cruiser-style Dallas in forest green or clear crystal; the saucy wayfarer-ish Hollyweird in translucent purple or silver; and a bulky, Solar-Shield-esque pair called the Hombre, which seems less dude and more retirement home-bre. Mellower styles rock stainless steel frames, exemplified by the skinny Associate in matte black or gold (w/ subtle circular bridge n' temple detailing), and the smoothly self-assured silver aviators known as the Allnighters, the perfect pair of shades to throw on when you want to cut loose and study Organic Chem!!
The zaniest number has to be the metal-framed, Harry Potterish Wizard specs, which come with either aqua-marine or firey orange lenses -- a wearable reminder that expansion doesn't always work, and can sometimes leave you fleeced.