A shop with a lil' bit of everything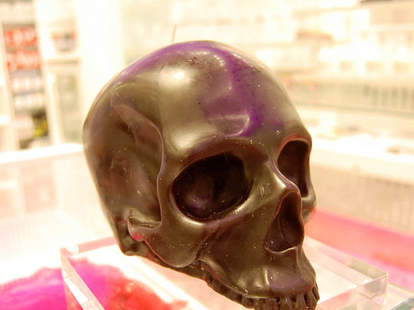 You can find pretty much anything in a old five and dime: detergent, candy, toothpaste, glue, cups, and nickels & dimes, which're apparently coins your parents once used to purchase these very things. Taking the all-in-one shop to a luxe-r level, Babalu.
Hidden in the walkthrough of the 1111 building, and opened by a couple dudes who ran high-end stores in Bali's swank resorts for 15 years before getting to Miami, Babalu's selling a crazy range of useful stuff for home, parties, and the beach, essentially making it a hyper-elevated five & dime, or what they call "luxurious convenience", way outdoing that 7-12 that just opened up. Gear-ish stuff includes shades like Italian-made Supers and surf-inspired Mosley Tribes, chunky watches from Welder , plus wallets from Mighty (made of water-/tear-resistant Tyvek, and printed to look like an old folded piece of notebook paper) and Stewart Stand, who crafts billfolds from thin stainless steel mesh sewn with ballistic nylon, also an upscale fashion magazine THAT WILL F$%*G KILL YOU. There's also cigars (Romeo y Julieta, Montecristo, and their house brand), corkscrews made of buffalo horn and hand-forged stainless steel from Forge de Laguiole, a collection of candles, plates, and stationary with eerily realistic black skulls from D.L. & Company, and more funky plates from Fornasetti, including a serving dish with a big butt, to give Sir Mix-A-Lot something to continue liking after he polishes off the rump roast.
They've even got actually awesome books, like the Sex Game Book: A Cultural History Of Sexuality filled with games (and 300 pictures!!!), My Nudes from Germany's View Magazine, which collects nude shots from unknown photographers and publishes them, and a big book of supermodel Klum's nudes, called Heidilicious, for which you're gonna need five all your own.