Cheap Winter Radness at Squaw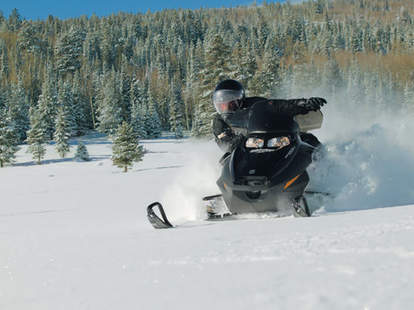 Once in a while a deal comes along that's just too sweet to pass up, like the time you scored that flatscreen in a parking lot, which turned out to be a lift-off oven door in a Panasonic box, but still, Panasonic is a really good brand. Well, here's an even better one: the Winter Sports Package at Squaw Valley.
Because misers like snow too, Squaw's rockin' a steal of an offer that hooks you and a buddy up with a double room in the normally pricey slope-side Village for two nights, two lift tickets, and an awesome snowmobile tour of their vast non-ski acreage for about the same price per night as two lift tickets, which, if your math serves you correctly, is cosine. Your standard room'll be plenty big, and you'll have easy access to all eight of The Village's outdoor whirlpool spas, ski/snowboard lockers, billiards lounge, on-site underground parking, and eight nearby restaurants that include Mamasake Sushi and Fireside Pizza with their outdoor fire pit/schmoozing zone, aka The Marina at 6,000 feet. Onto the snowmobiling: you both get your own hog, and after consulting you as to what kind of terrain you desire, your guide'll ignore that, and expertly whip you around trails that yield both sweeping vistas of Lake Tahoe, and big ol' fields of untouched snow where you're encouraged to basically run amok, or if you're smart and want to get your money's worth, snowmobile amok.
If you're after something a little different/are a fool, they've got a few other offers worth a gander, like the Snowmobiling (only) Package, and the spa treatment-centric Romantic Getaway Package, a deal you should probably pass up, since you've never had a problem getting lucky with a girl all curled up at home, just watching your oven door.