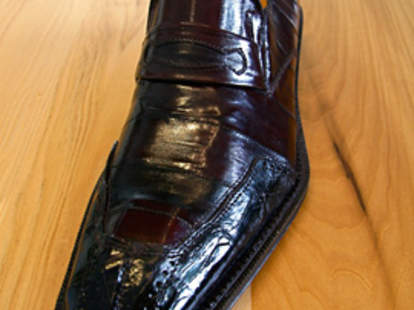 We expect a lot from bovines: Prime beef, nutritious milk, and extreme size/blueness/open-minded friendship, if your last name's Bunyan. Giving cows a hand, at least with shoes, Croc-Star shoe store.
The all-new CS shop, done in art-gallery-like simplicity with cement floors, wood plank benches, and white walls, houses both David Eden dress shoes and Slick Exotica sneakers, two brands under the same ownership umbrella that employ exotic hides to create footwear perfect for everything from clubbing, to Vegas weekends, to work, especially if your business card says "Gorgeous Dre". Dress shoes all get uppers furnished by an aggressive range of beasts: the classy chestnut-colored, pointed-toe Dean is done up in caiman (cousin to our gator) along the top and ostrich on the sides, with small raised dots where feathers once plumed; the wingtip Sicily's blessed with rectangular scales from the teju lizard, a 3-foot meat eater; and the Brett loafer gets blinged with strips of eel -- for an extra treat, eat your shoes with avocado! Equally exotic sneaks're unabashedly colorful, like the hoops-inspired Fly III Stingray in shiny patent leather and a finely beaded stingray toe area; the Fly IV Croco, in white leather printed with little crowns and a toe with oval caiman scales; and the Serval, a casual shoeker made of pony hide with the hair still attached, which always makes things a touch uncomfortable when little girls pet your shoe and whisper, "Honeysuckle?".
Less zoo-ish offerings include the Dragon, a candy-colored sneaker in patent leather with a detailed Chinese dragonprint on the side; and the Fly II Clear, a sneaker with leather around the heel and lace area, but clear plastic up front, revealing the most exotic hide of all -- you and your Bunion.