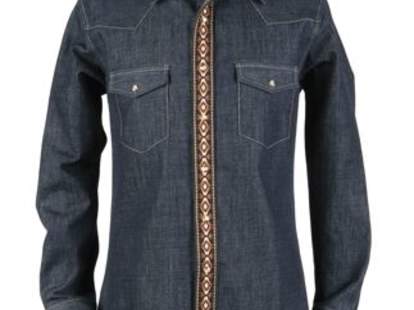 Designers think they've arrived when their clothes are worn by the famous, but really shouldn't you be the one clothed, and doesn't Beckham seem to prefer nudity anyway? Turning his gear your direction, Freedman Clothing.
Debuting in SF this minute, Freedman's a diverse line of vintage-inspired button-downs made for the average Joe, which're characterized by finely tailored, uniquely rad accents and crafted by a dude who got his start making one-of-a-kind pieces for musicians like Ben Harper and various Hollywood types including, but not limited to Matthew McConaughey (swoon). Roughly half the collection's of the denim variety, exemplified by the dark ink "Portland" (with green contrast sitching 'round the pockets and inside the placket), the blue bull "Americana Uniform" (with zigzagging breast pocket flaps and a military-ish shoulder upper-arm patch), and the custom indigo "El Paso", whose main feature's a colorfully woven Mexi-color placket, not to be confused with "Old El Paso", which is colorfully woven with e coli. There's also a ton of plaid action, like the blue and brown flannel "Cambria" (with reinforced denim shoulders), and the crisp "Los Angeles" silhouette (with metal rivet buttons), which comes in wine/grey, royal/charcoal, and weirdly celebrity obsessed/unable to handle living anywhere but the Marina.
Rounding out the line's a small bevy of corduroy shirts, like the "Austin" in steel cords, with shoulders stitched in more vintage Mexi-color action, and the aforementioned "Cambria" in chestnut brown with front/back shoulder patches scored with stripes that're colorful yet subtle, like your nipples -- when is someone going to make you a damn shirt?