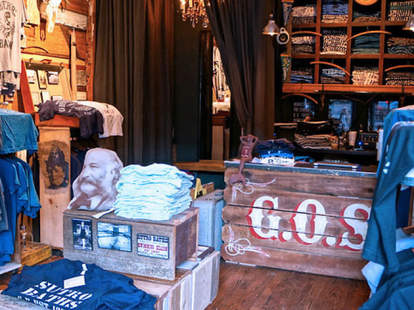 It's easy to say SF is the best (just buy a hat), but what if you want to say something more specific, like "My Nob can beat up your Potrero!". Show seriously localized love, with Gangs of San Francisco.
From an Argentina-born Friscan, GSF tees rock hand drawn and lettered designs that draw on the back-stories behind SF's most old-school districts to create imagery befitting of a 60s motorcycle gang. F'instance:
Richmond Brawlers: Circa 1870 a 5-block stretch of Fulton housed an ungodly amount of saloons for unruly patrons of the "Bay District Race Track", and was hence dubbed Beer Town. The drunks lost their most significant brawl to the no-fun "Richmond District Improvement Club", which closed all their watering holes, resulting in much drunkenness, and brawling.
Ohlone Chiefs: The Ohlone Tribe peacefully hunted and gathered by an area lagoon all the way up 'til the late 18th Century, when Spanish Missionaries showed up and named the area "Mission San Francisco de Asis". Eventually, the Ohlone grew tired of the Spaniards' fascination with thrift store clothing and fixey bikes and moved to Russian Hill.
Flyshacker Diving Club: Opened in 1925, Sunset's Flyshacker Pool was America's largest, with lifeguards in rowboats and room for 1000 swimmers. It closed in '71 and now lies buried beneath the SF Zoo, which is too bad, because swimming is way more fun than getting mauled by tigers.
There's a chance that your hood might not yet be available, maybe because the artist hasn't gotten to it, or because he thinks any neighborhood could beat down your Marina Hollow Heights.