Stylish fitted caps in Mid-Wilshire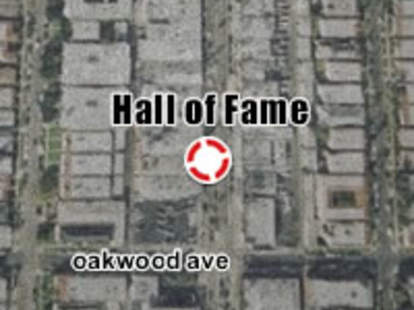 Much like the breadfruit dominates the diets of tropical nations, the baseball hat's a staple of the male wardrobe. But when your "Lipitor" promotional lid doesn't satisfy, check out the newly opened Hall of Fame.From the streetwear monks behind the upscale dude-shop Situationormal, HoF deals near-exclusively in fitted caps, which they display under glass, museum-style -- like colorful cultural artifacts you'll later sully with your head-stink. Their offerings generally fall into the $55 range (but top out at $200), and include highlights like:
A tarted up Dodgers cap designed by the store's owners, with a paisley wallpaper-camo that not only looks natty, it'll help you acheive that coveted "half-headed freak" look the next time you lean against a motel wall..
A turquoise owner's special Yankee cap, polka-dotted in the hopes that rival fans will call off your beating for fear of catching a deadly case of Hat Pox.
"Los Angeles Looters," a simple black, limited-edition collaboration between designers Frank 151, Crooks and Castles, Hall of Fame, and some guy with a pillowcase full of watches.
Though HoF might be breadfruitish about their dome-covers, they do offer a small rack of t-shirts as well -- which doesn't undermine their head focus so much as support the notion that man may not live on caps alone.