Art for the commitment-phobe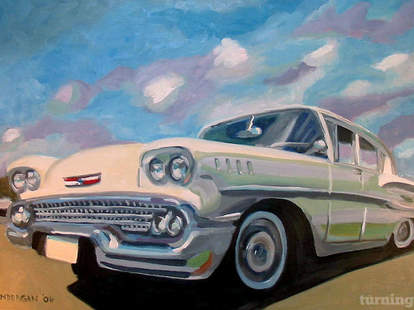 Being a ho sounds kinda fun, unless you're like, a real one. And if you are, gimme my money, ho. Letting you see how fun it is to get slutty with wall decor, TurningArt.
From a New England guy and his gallery-directing wife, TA lets you run through art like you were Warren Beatty, if he liked having sex with art; they'll send you a steady supply of prints from their ever-growing stable of sweet pieces, which you can swap out for others Netflix-style, or if you fall for one, buy the original real-deal painting -- and luckily, it's perfectly normal to have likenesses of Evander Holyfield in your solarium. How it works: pick a frame and peruse the collection, which you can sort via medium (oil, watercolor, etc.), price, color, or style (traditional to conceptual), then draw up a queue of your faves and decide how often you want new works; they'll send accordingly, and you'll ship back old stuff using a pre-paid mailer, although when you do that, you're liable to end up with Barbary Shore. Some highlights include "'58 Chevy", with the old beauty composed using photos and architectural programs, then painted over with impressionistic brush strokes, "The Great Unconformity", showing a little girl staring up at a huge naked woman asleep in a canyon, and "Hinged Cat", featuring a wigged-out, wooden-looking feline with hinged joints -- sure to get him totally bent.
There's also a program where every dollar you spend earns points towards the aforementioned buying of original prints, which could save you up to 40%, although it's difficult to pony up much of anything when Filmore Smoove has all your cash, and worse, your heart.