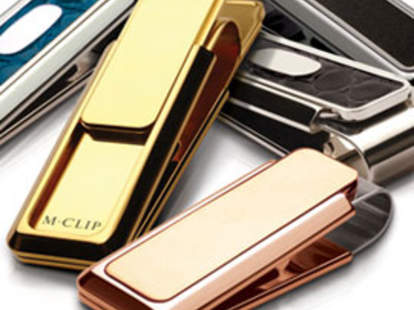 When it comes to true class, understated elegance is preferable to eye-popping excess, reflected in the sweeping roofline of an Aston Martin, the crisp lines of an Armani suit, and the full grain leather of the collar Puff Daddy affixes to his puma, who drives a jet ski around a pond of Cristal. Bringing class to the very money that can buy you it, the M-Clip.
A holy matrimony of functionality and form, the born-in-the-USA M-Clip gets a leg up on more-straightforward cash clips thanks to enhancements in both design and materials/construction, 'cause if there's one thing that America stands for, it's quality manufacturing. On the design front, the M rocks a patented sliding lever mechanism, in which both sides of the clip (resting on roller balls, yet secured thanks to Neoprene grip pads) can slide out to increase leverage, helping to easily open the tautly pinched mouth, a la a binder clip; the super-tight spring, meanwhile, is made of lifetime-guaranteed, heat-treated stainless steel, and each model's hand-made to "old world quality standards", because the lands actually known for quality manufacturing are Europe, Asia, Africa, South America, Antarctica, and by many reckonings, Australia and Oceania. Models include 18k gold plate/genuine alligator New Yorkers; rhodium/brightly colored alligator Rodeos; platinum-or-rose gold Classics; carbon fiber'd stainless steel numbers; the Sportsman series with 17 engravable game and fish patterns; and custom jobs, where you can mix various finishes, get a logo laser-etched on, or pick up a High Roller with double the wad capacity, like a belittling magnum condom for your scratch.
M's e-commerce site also throws out a few non-moneyclips as well, including alligator belts, wallets, cases for business cards and passports, pens, and briefcases, all made from their stock of alligator, which were probably caught while lazing drunkenly on the banks of pond Cristal.