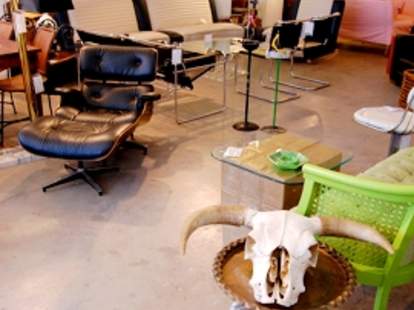 Consignment shops tend to be good for ratty tee shirts, dorm room-quality furniture, and ceramic kittens. So it may astonish you to learn that it can be even better, at Midtown Consignment.
Opened gradually over the summer, but only now finally stuffed with a crop of guy-friendly goods you'd actually care about, MC's a consignment shop selling everything from vintage gas station signs to bottle openers, whose mother-daughter owners carefully vet merchandise before even allowing it on the property, and bring a playful/tasteful eye to stuff for your home, where you can gaze upon it with your playful/lazy eye. To start, there's good-looking furniture like a mid-century modern Eames lounge chair that forms a sleek, wood veneer scoop around black leather, a set of original Wassilly chairs that suspend your butt and back on leather straps, and a custom leather couch/rocking chair inspired by the vast back seats of 1950s Chevy sedans; there's also eclectic stuff like a lamp made from an old-timey fire extinguisher, and a Ms. Pac-Man stand-up loaded with 48 games, including Galaga, Donkey Kong, Mr. Doo, Frogger, Crush Roller, and Dig Dug, all of which are even more challenging after you drink drank. Things continue with plenty of nuttily fun stuff: a 5ft hammerhead shark replica, and random objects hoarded by a peculiar UK relative: canes (one rigged as a pellet gun, another ringed with animal vertebrae), original Playboy ashtrays, a drunken sailor decanter with shot glasses, and a naughty, anatomically kinda-correct wine corkscrew/bottle opener that folds together via perfectly fitted private parts made of wood, to give you access to the very sauce that'll deprive you of it.
To clear out room for your sweet new futon, you can also sell your stuff at MC; just hit them with a photo of your goods and they'll let you know if it's up to snuff, and if they take it and it moves, you'll get a 50/50 cut of the selling price -- letting you head over to that other place, and finally get your hands on what you really want: tee shirts from 10-Ks in towns you've never heard of.