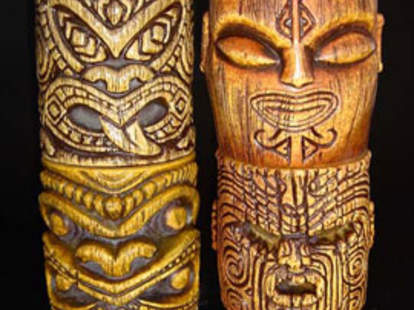 The strongest father/son bonds are forged when both parties can share in something that's theirs alone, like backyard football tossing, or getting savagely teased for being named Dalbert. Or creating sweet, sweet tiki mugs, like Munktiki.
Munk's an online catalog of out-of-control ceramic tiki mugs n' more, from a father/son duo in Monterey whose love for each other is outweighed only by their perfectionist love for the craft of tiki; designs start as clay cylinders that're formed on a potter's wheel, meticulously carved, and cast in plaster into which liquid clay's poured, to be hardened, glazed, and fired twice at 2000+ degrees, which is nearly as hot as boy band sensation 98 Degrees. Actual mugs range from 18oz Skull Monkeys (which sit threateningly calm and sip from their own tiny mugs), to creepy Mermaids (glazed green w/ big hooters and fish tails), to tribal-mask-style Canteenki Moais, which come with corks and leather necklace straps for "That Man Or Women About Town Look", that town being ConspicuousDrunkville. Extra voluminous action includes lava-rock-like Volcano Bowls w/ red devils rising up from inside, and deadly puffer fish-shaped Fugu sippers (used at Alameda's hallowed Forbidden Island), while perhaps even cooler are one-of-a-kind Coconut Monkeys -- round little apes w/ hats who bear expressions of surprise, toothy giddiness, or consternation about constantly having to lug around a FogCutter for a Red Headed Slut.
For the impatient tiki buff, Munk slings shot glasses made out of hollowed out, made up monsters like the wide eyed Zombie Girl in all pink, the decomposing visage'd Mummy, and Munkenstein, whose own fatherless existence is brightened only by the fact that he wasn't named something weird.