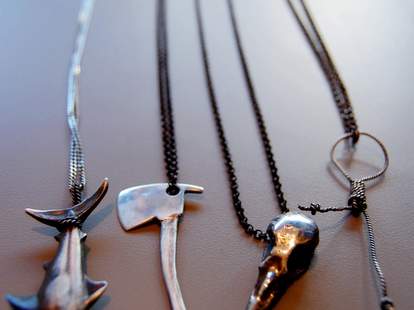 You've gotta hang onto great things if you can't use them immediately, like saving that hot Facebook chick's number 'til you break up with your gf, and saving your gf's number for when the hot Facebook chick turns out to be Carl Weathers. For a jewelry line not letting things go to waste, gaze upon Ransoun.
Dreamt up and handmade by a Miami designer who had ideas that just didn't fit into his other, more-military-inspired brand Miansai, Ransoun (ransom in French) crafts rugged, dude-friendly, aggressive-but-not-too-aggressive necklaces out of silver, then oxidizes them for a rustic feel that's pleasingly rough around the edges -- also what it says on your resume as a euphemism for "perennially hung-over". The line divides into realistically rendered objects from nature, and those from the hands of man: the man-made group's repped by stuff like a mini railroad spike, a pick axe with a dark handle and shimmering blade, an antique-looking key reshaped into the NYC skyline, and a pair of mini Wayfarer shades whose lenses're darkly oxidized, and rocks hinges that actually work -- so they're already doing better than your buddy who says he's "just crashing for another week or so, seriously, and I'll totally get you back for that beer tomorrow". The animal offerings come with a hint of danger: a mako with detailed teeth, hanging from the necklace via a silver rope around his tail; two ring pendants, one featuring a menacing bear head, the other, a ram head; and a meticulously detailed bird skull cast from a real one the designer found at an area rummage sale that you should definitely avoid.
Ransoun also makes a leather bracelet with a silver anchor attached at both ends to a leather rope that tightens via a noose -- which you'll wish was bigger once you realize that your gf is gone forever, and Carl Weathers always orders lobster.