Rare sneaks hit the Lower Haight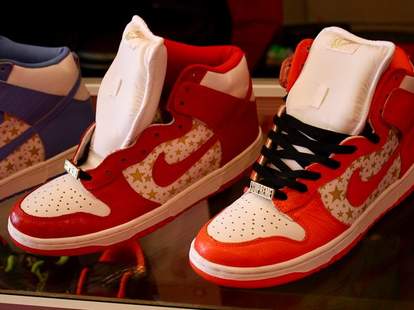 Although it's convenient, online shopping has some serious drawbacks, e.g., finding what you want can be time consuming, interacting with faceless sellers can be sketchy, and...OMG, are those kittens playing soccer?! Solving said problems for sneakerheads, SF Collection.
Brand new to the Lower Haight, SFC's a consignment shop "for sneakerheads, by sneakerheads" -- where you'll find a colorfully deep collection of mainly rare Nikes (priced at anywhere from 60 to $3,000) -- benevolently brought to you by a couple of dudes who wished that they had a similar non-eBay option when they were coming up in the scene, and also that they got to wear their sneakers outside. Some of their baddest current stock includes Supreme Dunk highs (in three different colorways with snakeskin-textured leather and gold stars on the sides), OG (first release) Jordans, and Quick Strike low-top SB Tiffanys -- a Diamond Supply collab with side n' top panels of Tiffany blue -- buy them for your GF, only to realize she's not a men's 10.5. Almost as rare are the Huf Quake lows (in either orange or green, with "1989" tongue designs), Gucci Dunk highs, and band-inspired numbers like the galactic-looking Dinosaur Jrs (in silver and purple) and the splashily graphic'd Uncles -- as opposed to your splashily graphic Uncle, who's now banned from the community pool.
Non-footwear inventory includes G-Shock watches, fresh SF-repping tees and crewnecks by Fully Laced and Adapt, plus deadstock snapback sports team lids (the Magic, the Hornets, the 'Niners, etc.), and wooden jewelry by Good Wood, the wearing of which has some serious drawbacks, most of it being the fact that you're wearing wooden jewe--OMG, are those kittens wearing jewelry???