A site for the gifting-impaired everyman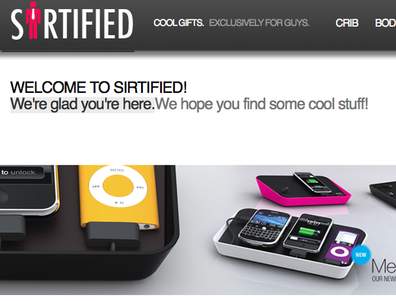 When your birthday rolls around, there's always that one thoughtful guy who makes all your other friends look like a-holes by giving you a great gift, and that guy, without fail, is you. Help him make you even happier; self-gift with Sirtified.
Out of sometimes sunny Sunnyvale, Sirt's a vast e-store that's out to bless men with "good design" from all over the world, comprised of dude-centric, aesthetically pleasing, legitimately useful products that're curated by the site's founders, a crack-team of product designers but not a product team of crack designers, because those guys are at a much higher pay grade. Filtering by price and categories (Bed, Kitchen, Office...), will yield everything from neoprene six-pack holders and molds that make shot glasses out of ice, to ceramic vases shaped like glocks, to "500 XL" ear bud speakers, which look exactly like iPod headphones but're 500 times bigger, and with Abe Vigoda's b-day comin' up... Sirt also features a nice bounty of tech-sessories, like super-skinny, water n' scratch-resistant USB flash drives that'll fit on your keychain; a rectangular, power-outlet-having hub that stylishly conceals your messy wires in your workspace; and the aluminum plated/rubber encased LaCinema media drive, which allows you to view all your photos/videos on any TV while on the go, because you never know when you might come across Edgar, and want to show him your Caida.
Also, you can consult Sirt's cleverly-named sister sites, Misstified and Passified, in the unfortunate event that you're forced to give something to a woman, or the most unthoughtful a-holes of them all: children.