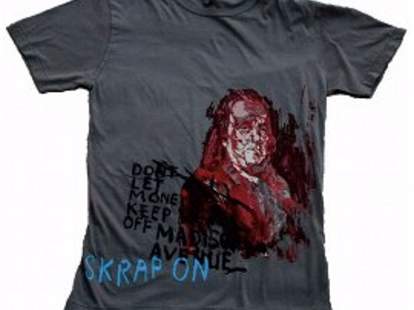 It can be tough to take lauded art and successfully present it in another medium -- what other explanation could there be for your Last Supper toilet seat covers not totally taking off by now? Putting art somewhere it works, Skrapper.
A premium tee line created using the last 20 years of work of William Quigley (who made his mark on the NY art scene in the '80s among the likes of Warhol and Basquiat), Skrapper's duds're designed by Quigley's partner/designer/photographer Katie Theofilos, and feature elements from his iconic pieces, which despite their value, lack the peanut buttery crunch of Reese's Pieces. The bread 'n' butter are crew/v-necks featuring famous faces coupled with seemingly disjointed text/images, i.e., Union General William Sherman's mug next to a scribbled "...I have a love for romanticism, Hemingway, Picasso, Bill Evans, Red Gardland, Rembrandt, Pollack & de Kooning" on a jersey cotton deep-v; a bloodied Johnny Cash next to a bleeding penny on a white crew; and an olive crewneck with "Don't Let Money Keep You Off Madison Avenue" across a Ben Franklin portrait, even though it was syphilis that confined him to Lex. They've also got a few numbers featuring Quigley's recent boxing-inspired pieces, like an Ali number on a Pima/bamboo v-neck or crew with the Greatest's fists in line with painted black letters spelling "Skrapper"; "We Have Enuf Idea People, We Need More Business Guys. Do You Have An Excel Sheet We Can Look At?" scrawled across a dukes-up James Braddock; and a white bamboo/organic cotton tee with verbal pugilist Ted Williams in a batting stance on the upper chest, his likeness...frozen for all time.
There're also a select few tank tops for those who hate arms, though they'll only remind you of your failed line of Venus de Milo hat racks.