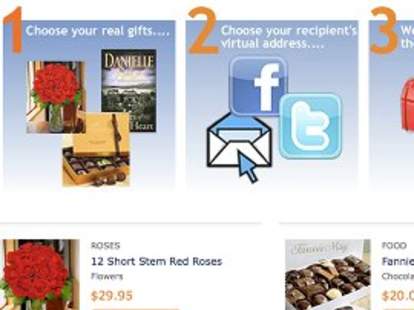 In the online world, it's always good to be cagey and keep things private -- but then how're your thousands of colleagues on LinkedIn supposed to send you wonderful gifts? With Tigerbow, that's how.
The perfect accomplice for all your romantic conquest/casual stalking needs, TB's a confidential gifting site helmed by two UPenn grads that lets you browse for and send real stuff to people you know only virtually (via email, Facebook, Twitter, etc), by acting as a proxy for the giftees' physical addresses, letting you mail them a present without ever knowing their digs, so they won't get freaked out until after your pasta sculpture arrives. Getting started's simple: just register, select the gift you want to send and payment type, supply the Twitter ID/email/Facebook profile, etc of who you're sending it to, and compose a message to them; once the recipient gets your note, they'll only be able to see your virtual address (you can reveal your identity in the message if you want), and they get the option to accept it and give their mailing address to TB (shared only with the shipping company), or deny it, in which case you don't pay anything, and might even score a free restraining order! Giftage includes typical wooing merch like flowers, candy/chocolates, and greeting cards, less romantic stuff like DVDs and books, and a thorough selection of funny graphic t-shirts, since nothing says "I'd like to get to know you better" than an "I Heart Polygamy" slim-fit crewneck.
Exactly what you're sending isn't specified to the recipient unless you reveal it in the message -- because another thing that's good to keep private is that you're sending people the wonderful gift of a trial subscription to Redbook.