From Pancake Day to midnight lobster: 9 world feasts worth the trek
You know how every Thanksgiving you find yourself balled up in the fetal position, arms wrapped around your pained paunch, as you vow that next year will be different and you won't eat the whole pie? Well, guess what: next year's not gonna be any different. And that pie needed to be eaten. Now stop being so hard on yourself and get back in the saddle at one of these coma-inducing, gluttony-glorifying food festivals that're totally worth the airfare.
Most symbolism-heavy feast: Osechi, Japan
What: New Year's Day is basically like Christmas for the Japanese, who celebrate it by taking down Osechi-ryori, small plates of traditional (and colorful) New Year foods that're served in bento boxes with more symbolism than your high school English teacher green-lit in The Great Gatsby (boom, tish).
Eat: More decorative than decadent, common dishes include kobumaki (kelp rolls), kuromame (simmered black soy beans), kurikinton (mashed sweet potato with sweet chestnuts), tazukuri (candied dried sardines), and zoni (mochi rice cake soup).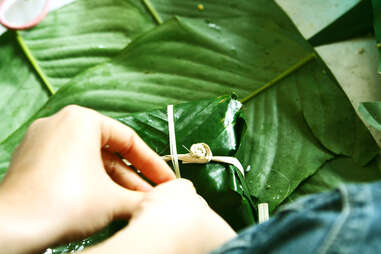 Nothing to do with a giant military offensive feast: Tet, Vietnam
What: Nothing tickles our pickle like a good hybrid (like this waffle sammie, this car and pretty much any pastry combo), but Vietnam's Lunar New Year, which marks the arrival of Spring (in January or February, natch), takes the cake. Roll Thanksgiving, New Year's Eve, Halloween, and your birthday week into one epic, compact celebration, and you're nearly at Tet.
Eat: In Vietnamese, to celebrate literally means "eat" Tet. A celebration-specific dish is Banh Chung, a square cake made of steamed rice, mung bean puree, and pork that's wrapped in a banana leaf and tied with red ribbon for good luck.
Fishiest feast: Feast of the Seven Fishes, Italy
What:This feast also goes by the Godfather-y name of La Vigilia (The Vigil), and is a traditional Italian Christmas Eve celebration commemorating the birth of Baby J.
Eat: As Italians are rarely accused of being subtle, the feast involves exactly what the name suggests -- seven seafoods, though some people go overboard with more. Any fish dish is fair game, but a popular choice is baccalà (salted cod).
Grossest feast: Midsummer, Sweden
What: Leave your Timex at home and party until you literally drop from the delusional, confused stupor caused by a Swedish summer -- during which the sun never seems to set.
Eat: "Feast" might be a bit of an overstatement, but after skipping around the maypole, famished vikings reward themselves with rotten fish. No, really, they eat Sürstromming -- herring that's spent a few months fermenting in barrels.
Screaming for a beer-pairing feast: Fiestas Patrias in Chile
What: While Americans prefer to celebrate July 4th with fireworks, and hot dogs, and passing out in puddles of red, white, and blue vomit, Chile celebrates its independence from Spain in a slightly more civilized fashion: with picnics and parades. So, just like America, but without the puke.
Eat: Festivities revolve around empanadas, those bread-y Latin hotpockets of heaven filled with beef or chorizo.
Most macabre feast: Day of the Dead, Mexico
What: Kind of like a more scary Halloween but with fewer sexy Antonin Scalia costumes, Día de Muertos is about remembering the dead. But not eating them.
Eat: Traditions include building mini-altars decorated with baked agave and candy skulls (and, in an effort to lure 'em back, the dead person's favorite foodstuffs) and dishes that include pan de muertos -- skull-shaped Day of the Dead bread that's often sprinkled with sugar or dipped in Mexican hot chocolate. Don't be surprised if you enjoy dinner in a graveyard -- it's totally normal.
Most likely to get lucky feast: Moon Festival, China
What: Also known as the Mid-Autumn Festival, China celebrates this official harvest fest on the 15th day of the eight month of the third year after the second trimester in the first… in the Chinese calendar, during a full moon. It's a good time to fine-tune your pick-up game (not basketball), as it's the time when marriages and new romances are celebrated, and many single ladies long for men to whisk them away.
Eat: This fest is famous for its mooncakes -- pastries (made from red bean paste) whose round shape symbolize completeness and unity.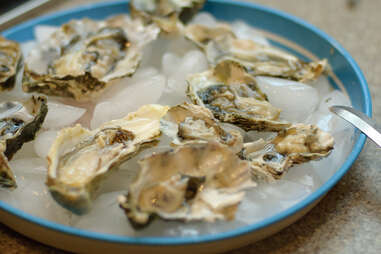 Feastiest feast: Réveillon, New Orleans
What: Leave it to New Orleans, city of uninhibited excess and old Creole custom, to re-invent Christmas into an extravagant, late-night food orgy called Réveillon.
Eat: While a typical Réveillon meal is kind of breakfast-y and features the French toast-like perfection known as pain perdu, it's also laden with oysters, lobster, and veal grillades, not to mention Creole classics like turtle soup.
Lamest excuse for a feast: Pancake Day, England
What: Brits mildly disgrace themselves the day before Lent by celebrating Shrove Tuesday (aka Pancake Day) and shoveling their faces full of as much soon-to-be-forbidden food as possible. Tarnishing their reps even further, celebrants dress up in aprons with frying pans in hand, and compete in pancake races through town.
Eat: Pancakes.