So, your plans for Thanksgiving weekend have suddenly fallen through, and you're staring down the barrel of a pre-packaged turkey dinner for one (or even worse, two, and you're in trouble for it). Rather than accepting such a depressing fate, throw caution to the wind and book one of these last-minute vacays, to make the most of your days off.
Recommended Video
Where to Get the Best Waffle Fries You'll Ever Eat
Green Mountain gourmet on the cheap
Swap those store-bought Thanksgiving dinner substitutes for a delicious prix fixe feast at this remote Vermont resort. You and your lady'll get a spacious Condo Suite, the perfect accommodation to totally sleep off the food coma that's bound to ensue from your French-American repast. Relaxing treatments at the nearby Aveda Concept Spa are also included, because the last thing anyone wants is a cramp from overworked jaw muscles.
Stuck on the west coast? Head up to Washington, and spend the holiday weekend in a luxe lodge. Opt for either a one-night stay in a Superior room (with views of the nearby Cascade Mountains), or get all romantic-like in a Fireside room for two nights (with champagne and s'mores). Whichever you choose, you'll have scenic hiking opportunities with more than 70 nearby waterfalls and 175 woody acres to explore. So choice!
Slip into a wetsuit for some kayaking or windsurfing while you're here -- you know you want to.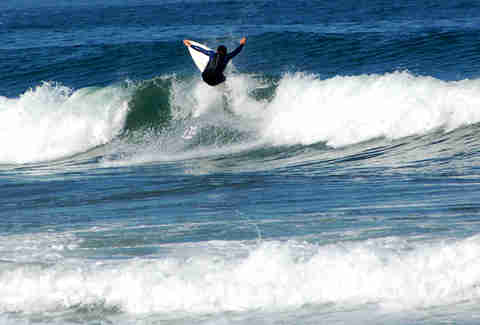 Point Break surfcation in California
Nothing says Thanksgiving quite like carving some gnar heavies off the coast of Cali, right? Of course, they go together like turkey legs and bank robbery cranberry sauce. Bring your board to Santa Monica and grab an HD video of yourself riding the waves like a total pro. After that, you'll hop on a plane and complete your Point Break fantasy by doing a little skydiving high above the Golden State's landscape.