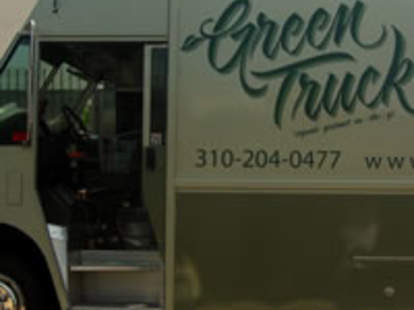 Going green sounds great on recycled paper, but living a truly sustainable life would mean giving up both your Humvee and your tire fire. Save some Earth without sacrifice, with grub from the Green Truck.
GT's a pair of lunch trucks that roam Century and Culver cities, dispatched by a former male model mo.jpg and a Wall Street trader who apparently wanted to get in bed with someone really, really good looking. Beyond fueling up with French Fry-smelling biodiesel, the company's commissary headquarters are solar powered, and all the utensils are completely biodegradable (though just throwing them on the ground does not constitute mulching). But the chow's far from soy and sprouts: designed by a former AOC chef, the menu boasts grilled cheese, a bbq-sauced steak sandwich, and make-your-own wrap options including Applewood-smoked Bacon -- obviously healthy since it's made from fruit.
GT have another truck available for private events, and upon request will send one of the roamers to your office -- where you'll be tempted to trap them for eternity by stealing their wheels and throwing them onto your vulcanized blaze.