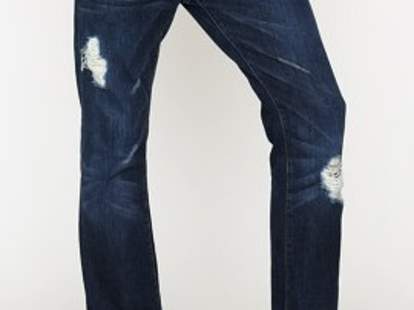 Whether a marriage withers or thrives depends on how well you can work together to ride out life's challenges, like raising a kid, money, and your wang. Get pant-ed by a couple whose marital success has spawned clothes, with Revel Seven.
Just now available online, Revel's sustainably produced green merch from a husband/wife team who got into the eco-gear game a couple years back with a line of organic cotton tees, and just made the move into similarly organic denim, because the artificial flavorings in regular jeans will give you cancer. Rather than dye and wash with toxic chemicals, RS maintains its eco rep by using only "what nature provides" to get the same effects on its 100% organic cotton denim, i.e., vegetable dyes, salts, minerals, and hand sanding, for "shop-class chic". Keeping true to classic denim fits, they've got two distinct cuts to choose from, either the regular bootcut or the relaxed fit straight, which can be washed/dyed in a variety of styles including a simple, unaffected "clean" finish, a slightly ripped "vintage destroy", the worn and whiskered "10 year", and a whiskered "vintage clean", also a description for careful hookers named Blanche.
If you don't wear pants, Revel's also got a growing line of 100% organic cotton short and long sleeve "positive message" graphic tees -- although no amount of positive thought's gonna make her stop thinking about her tennis pro.