Bill Telepan is the KRS-1 of locally supplied, seasonal ingredients. "Back in the day, suckers would come tough with their imported, non-seasonal ingredients," smirks B Tel. "Now fools can't even see me." Telepan plans to keep his 110-seat converted townhouse real with a pecan wood bar, four fireplaces, and an extensive biodynamic wine list to get his patrons crunked.
Recommended Video
Attention All Wine Drinkers: This Is the Pasta You've Been Waiting For
Previous Venue
Next Venue
Venue Description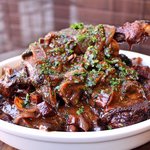 1. Telepan
72 W 69th St, New York, NY 10023
Taking over two restored townhouses, this upscale eatery delivers the quintessential farm-to-table experience: a fancy-yet-comfortable setting with precisely prepared seasonal vegetables alongside fresh seafood and meat dishes using locally supplied ingredients. Your move here: order the three- or four-course pre-fixe (a solid deal) and an offbeat gem from the eclectic wine list.