Photo: NYCGo.com When Keith McNally took over the 72yr old Minetta space in 2009, he may have installed fresh tile floors, an oak bar, and vampire red banquettes... Photo: Hg2NewYork.com ...but he took care to ensure his Tavern would still bear the intoxicating aroma of classic New York, retaining the spot's yellowing wall murals, and b&w photos of people remembered only wizened, probably-now-ex-patrons. Photo: Yaokui The menu won't shake you from your fever dream of bygone ages, sporting expertly executed, Franco-American offerings like veal carpaccio w/ Burgundy truffles, crispy Berkshire pig trotter, and this dry-aged cote de boeuf for two, abstemiously topped with roasted marrow bones. Photo: Tummy Diaries The most notable nosh, though, is the Black Label label burger, a $26 blend of prime, dry-aged Creekstone ribeye, skirt, and brisket that's redolent with musty, barnyard aromas, not to mention caramelized onions. Best bet: drop by latenight ('til 1a) to grab a table and order one off of the bar menu.
Previous Venue
Next Venue
Venue Description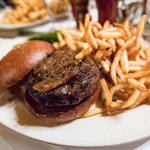 1. Minetta Tavern
113 Macdougal St, New York, NY 10012 (Greenwich Village)
In the heart of Greenwich Village, Minetta Tavern boasts a classic oak bar, vintage photos on the walls, and supremely delicious burgers (amongst other menu items). Its Black Label Burger has quite the reputation -- it's an 8oz blend of Pat LaFrieda prime dry-aged beef, cooked until there's a nice, light crust on top, then dressed with caramelized onions on a custom brioche bun.