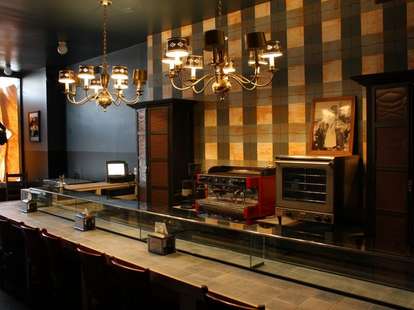 Between booze-fueled mini-golf and a bar themed after a carnival, H Street's loaded with over-the-top entertainment, but it's always lacked the one thing that could push it to the bleeding edge of nightlife insanity: pie. Here to rock that void like a hurricane, Dangerously Delicious Pies, opening tomorrow.
After months of speculation, the DC outpost of Baltimore-based DDP is finally set to open; conceived by the tatted-up rocker founder, the edgy-yet-homey space features a tile "pie bar", antique chandeliers, hand-painted barbed wire on the walls, and custom metal "pie safes", where hot pies are sent to vent, probably about their dad yelling at them for getting baked. At any given time, they'll be serving 10 (of around 40 possible) ruthless originals, like the toasted coconut/tangy buttermilk custard "Coconut Chess"; the soon to be Food Networked "Cowboy Quiche" (with potatoes, onions, bacon, ham, cheeses, and whatever they "feel like putting in that day"); and the steak/'shroom/onion/Gruyere "S.M.O.G" -- eat five and go back to college to finally be the B.M.O.C. By summer they plan to be liquor-licensed, but are now fully prepared to cover you post-bar: they'll be open 'til 3am Thurs-Sat with slices, Baltimore's Bluebird Coffee, and individually sized Pocket Pies -- stash in your pants prematurely, and your civil lawyer will be singing "Hot Pockets".
Even if the unexpected happens (further permit-related delays), they'll be throwing an opening party tomorrow night (8pm-3am), where they'll have free pie and live tunes from the owner's sonically relentless band, the Cold-Cold Heartbreakers -- between that and the pie, a great night to pre-party on "J Street".