Steer your own fruit-centric cocktail destiny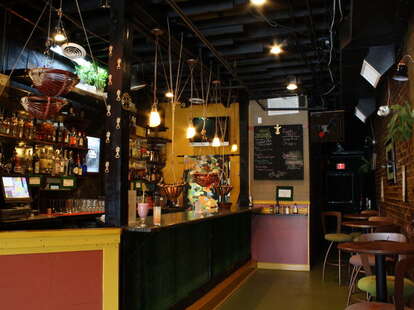 Things are always more satisfying when you do them yourself, from changing your own oil, to starting your own business, which'll ensure you have to keep changing your own oil. Now easing people into the do-it-yourself cocktail: Fruit Bat.
Helmed by the cocktail crafter behind Wisdom, the Bat's an H Street hole-in-the-wall guiding guests through the art of cocktail design; the space is a low-lit, boozy bungalow organically festooned with live ferns growing out of the walls, multiple hanging wicker fruit baskets, and atop the bar, a small herb garden, so don't hang out with the bar if you want anyone to think you're cool. Patrons are shepherded through a multi-level drink design process, which includes selecting a "base" (from gin and vodka, to a hearty selection of rums), adding a liqueur "modifier" (like red/white vermouth, orange curacao, falernum, or creme de cacao), choosing a fresh squeezed fruit juice, and finally adding a "tweak" (from liquid agave to cane sugar) to add some sweetness, although you'd better like your drink shaken if you're throwing Walter Payton in there. For the completely boring non-experimental, they've also got pre-made infusions (served as a shot, cocktail, or martini) like cherry vodka/cucumber/sake and vanilla vodka/cinnamon/apple, plus a specialty 'tail list with goodness like the gin/apricot liqueur/fresh grapefruit La Revolucion, the rye/Guyot creme de Cassis/orange Scarface, and the banana rum/Aguardiente Colombian Necktie -- just be especially careful when tying one on.
They're also slinging a slew of South American small plates, like cubano-spiced Pulled Pork Tacos with chorizo-spiked cabbage and fried plantains, all advertised as "street fare" -- though it's anything but, as no one seems to be coming to your sidewalk table selling wooden hoops you hit with a stick.