The world's first pub/deli -- O'Chaim!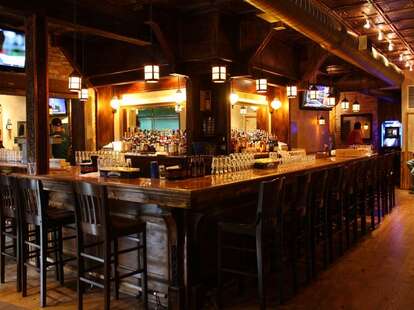 Jewish Americans and Irish Americans have a surprising amount in common: cultural histories rife with tragedy, love of a good laugh, and a winning prowess in the boxing ring, before African Americans, Latins, Russians, Egyptians, and Pacific Islanders were allowed to compete. Celebrate that commonality in hilarious fashion, at the Star and Shamrock.
Half Irish pub, half Jewish deli, the Rock's anchored by a central, three-sided, pine-topped bar lit by hanging cast-iron lanterns and decked with hand-carved oak reliefs of four-leaf clovers and Stars of David, heart-warmingly coupled with a back-corner, full service deli counter, whose Mom constantly asks "Oy, why do you always have to be in the back?! For this your father and I sent you to private school?!?" Deli eats include apps like Kosher Komies (fried Hebrew National pigs in blankets), Sheri's Latkes with apple sauce, and "au jew" Sadie's Fried Matzo Balls, plus for-realz specialty sandwiches like the salami/provolone Pizza Bagel, the Irish cheddar McTuna Melt on rye, and the hot beef brisket/provolone/bacon/gravy/garlic butter The Clogger, so called because your arteries will look like they've been danced on by heavy wooden shoes after eating it. The beerlist's extensive and appropriately Celt-ish, with 22 bottles and 12 drafts split evenly between Irish brews like Harp, Guinness, Kilkenny's Cream Ale, and Curim Celtic Wheat, and Semitic suds from He'Brew including their Jewbilation Ale, R.I.P.A on Rye double IPA, amber Pomegranate Ale, and their "nut brown ale" Messiah Bold, a beer that's totally on it's way. Seriously, any day now, it's coming.
For more independent noshers, the deli'll also hook up a made-to-order sandwich with 1/3 pound meat options like corned beef, hot pastrami, bologna, and chopped liver, which is what winning a boxing match looks like when you own the media.