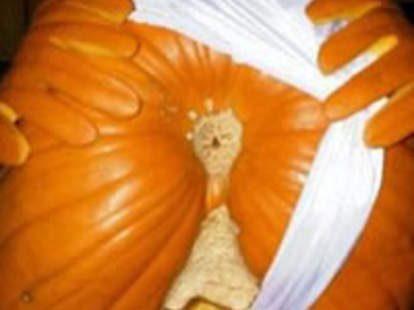 Drunks: Red Hook Bait & Tackle Party9pm-"late o'clock", Sat Oct 28 (no cover)320 Van Brunt, at Pioneer; 718.797.4892; Click for directionsIt's a haul, but hit this raucous Red Hook bar's costume party and you'll get live music from Chicken Missile (so named for deploying a "nugget catapult" during shows), $2 Bitches Brew pints, $2 whiskey shots, and, for $6, the chance to suckle Jameson straight from the bartendrix's "Whiskey Tit" -- a boobish drink dispenser that'll fill you with nostalgia for your mom's post-happy hour feeding sessions.Orange Food: Pumpkin Potpie$19 at Stanton Social99 Stanton St, between Orchard and Ludlow; 212.995.0099 TheStantonSocial.comMany cultures believe eating pumpkin gives a man godlike strength. SS's new seasonal special (Lobster Lemongrass Potpie), baked and served in a mini-pumpkin, should do the trick. The Potpie won't be listed on Saturday's menu, but will be available upon request 'til the kitchen closes at 3am -- eat two, and you'll grow so powerful, you can burst through Stanton's wall like the Kool-Aid man.Laziness: Horror Flick TV ScheduleIf you refuse to leave your apartment, here's a rundown of Saturday's most disturbing basic cable programming: 8am: the horrifyingly bad Judge Dredd TNT12-2pm: 4 episodes of Snapped (dramatic tales of women killing abusive husbands!) Oxygen1pm: Jason X Sci Fi2:45pm: A Nightmare on Elm Street AMC4pm: Ghost Ship Spike6pm: Santa's Slay ("He's making a list. Pray you're not on it.") Spike8pm-2:15am: The Exorcist I, II, and III AMC9pm: Shaun of the Dead Comedy Central(Or, Bravo's showing compilations of horror movie moments from 9pm-5am -- if you're looking to take your gore in freebase-style doses.)Costumery: Vile MasksWatch video and buy ($39.95) at VileMasks.comOrder a VM, and what you lose in creativity points you'll gain in sheer disgustingness. Simply use the included bottle to fill the mask's zit-like pustules with the liquid of your choice, then squeeze the boils to spray your juices up to 10ft -- all over unsuspecting friends, unsuspecting strangers, and that obnoxiously festive party hostess who really shouldn't be wearing that nurse's outfit.
If you're actually going out Tuesday
Drinks:
Cypress Hill Hosts Retox Rock Bar Grand Opening
11pm-?, Tue Oct 31511 W 28th St, between 10th and 11th
The legendary recreational botanists are hosting the grand opening of Anthrax guitarist Scott Ian's rock bar. As with any Cypress Hill-related event, this one will be throbbing with music industry VIPs. To get your and a friend's membranes on the guest list, be among the first five to answer this question:
Cypress Hill once wedged invaluable cooking tips and presidential advice into one brilliant couplet. Email those illuminating lines to Contest@thrillist.com.