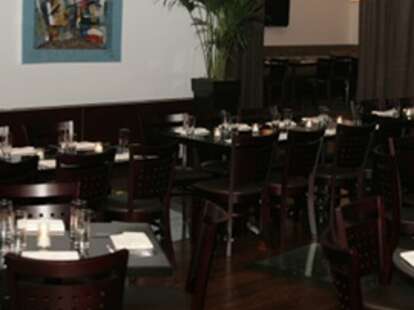 Both music and cuisine are extraordinarily resilient in their ability to take on influences while retaining their essential character -- unless your music is influenced by food, in which case you're D'Angelo (seriously, he got fat). Globally tweaking food and tunes, Gospel Uptown.
Bringing together an expanded vision of Harlem's historic nightlife scene with Euro/Asian-inflected Southern comfort food, GU accommodates up to 500 in a high-ceiling'd, homey-industrial dining area where dark African wood tables and stainless steel hanging fixtures are juxtaposed against exposed brick walls and artwork created by the chef; a sizable stage dominates one end, a curved bar the other, while between them are two olive-curtained VIPs, which your P-ness will enjoy staring at from the bar. While there are plenty of straight-up dishes (beer-braised bbq short ribs, etc), fusion grub stretches from Thai-Soul Chicken Satay, to brown sugar-cured sea bass w/ dirty rice & Creole stewed tomato sauce, to Cajun-style tuna w/ curried plantain, to Southern Trio Fried Chicken w/ hoisin gravy, a.k.a., "The Colonel" Tso. Music's focused on R&B, soul, and hip-hop, but world, Latin, and stand-up'll have their nights, with early confirms including Haitian jazz with artists such as Jean Caze, Chardavoine, and Grammy-winner Dave Valentin; weekends host twin 2pm Gospel brunches, with Sundays featuring Cocolo: an all-native-Japanese group led by Convent Ave Baptist's Professor Gregory Hopkins ("give me a Hallelu-yen!").
Though the liquor license is pending, Thursday's set for a grand opening starring R&B queen Melba Moore, plus special guests Carol Williams, Gloria Gaynor, and Ashford & Simpson, the duo behind "Solid as a Rock" -- which no longer describes D'Angelo. Goddamn have you seen how fat he is?