The new capital of rap is...Lufkin!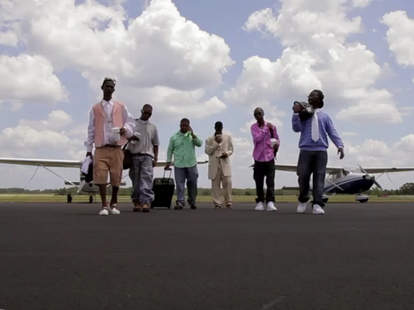 Talent can be found just about anywhere -- if someone hadn't spotted Tia Carrere grocery shopping in Waikiki, you'd have never found her talents in Playboy. Finding rappers in the strangest Texas places, Hata Proof.
Founded by Oak Cliff-raised, self-taught producer/director Cesar "Big Cease" Lozano -- whose self-starter accomplishments include selling a reported 200,000 albums out of the back of his car at 3a -- Hata's roster includes artists from towns better known for drag races, lakes, and "nothing" than they are for hip-hop. Check out these vids for a rhyme-spittin' TX map:
Ennis: Mexican Mike, Big G, and H2, "I'm a Ryda" You won't see the Texas Motorplex, but you will see some sweet rydes, plus large guns, the Mrs. Baird's outlet, and some shots from inside Dallas' Ice Bar -- apparently the Ice Ice Bar was too VIP, yo. This video is so sweet, you won't even mind that Kenny Bernstein isn't in it
Straight Outta Conroe: Various Dudes from Near Houston, "Exit 105 (Take a Ride)" Though being filmed in a strip mall that appears to have a Leslie's Pool in it, when these guys proclaim "Conroe, Texas on the rise", you kind of believe them (then again, the shotgun-blast sound effect will make you believe anything they say). A tipster notes "that TNT gas station is the first place I ever bought beer"; share some warm memories right here
Lufkin: Fab 5, "Walkin Million Dollars" "I'm ballin' like the Knicks, I know that I'm the s***, they're burning up the money shouting hey I need a grip" -- more importantly, if you watch this, you get to see an Expedition stretch doing donuts. You really shouldn't need any more convincing than that to click
Big Cease has dozens of Hata Proof vids up on his Vimeo site, from Throwed Off Mex's autotune ballad "I Apologize", to offerings from Dat Boy X, Tum Tum, and J-Dawg -- a man who's not afraid to bust out a Crucial Taunt.