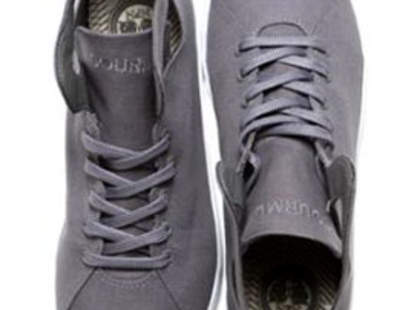 If assimilation weren't a way of life, then why are you eating a BLT, Saul? That's right it is, and now it's gunning for your feet with Gourmet.
Executed in Italy's tradition of impeccably fine materials and craftsmanship, Gourmet's a red-blooded sneaker line from a group of dudes who cut their sneaker n' streetwear chops at DC, Union LA, and Zoo York (think three-toed sloth who loves the Mets). Gourmet's latest begin quietly confident with the Wallabee-like Cinques in lush tan suede w/ memory foam deck soles, and the minimal, black canvas, Air Jordan-inspired Quattros, which mean both "four" in Italian and "you still suck at HORSE" in basketball. Flashier offerings include the smooth grey leather Tredici runners, complete with metal lace clasps and air bubble sole accents, and the Due in chocolate leather, with outer flaps that can be zipped up high around your ankle or unzipped for that slutty, Amish look.
Remaining styles fall somewhere in between, like canvas Unos that're fairly nondescript save a bold, triangular hole cut into the uppers, and brushed nubuck leather, lace-up Nove highs that're lined with pigskin -- because hey, if you're already eating it, you might-as-well throw it on your feet and go score another sandwich.