American basics from the Roland Bagels dude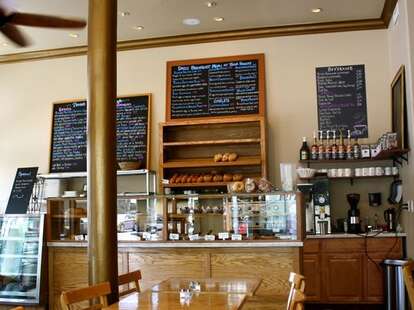 Sometimes even a total calamity can be a blessing in disguise, like losing your keys and avoiding a massive traffic pile up, or getting the flu and missing Marshall Applewhite's Nike & Cloak Bash -- just try and find someone who'll admit they attended that thing! Capitalizing on what he thought was misfortune, the Roland's Bagels dude, at Terra Bakery.
After being forced to shutter permanently a few months back due to a lame landlord dispute, the famed SF's bagel maker's now doin' his thang (along with another baker and a Cordon-Bleu-trained chef) in a corner bakery/bistro called TB modestly appointed with wooden two-tops inside, and outside a handful of iron-wrought ones fit for a man/Maiden. Joining the bang-up selection of artisan bagels, breads, croissants, muffins, etc., is a delicious hot breakfast menu highlighted by poached eggs on brioche toast with mixed greens/cucumbers/shrooms and fried egg sandwiches (on bagel, baguette, or croissant) with caramelized onions and aged cheddar, hands down the hippest way to talk about your Indian Head pennies. Lunch and dinner fare ranges from panko-breaded crab cake sandwiches with wasabi aioli, to roasted tamarind-braised baby back ribs, to grilled pork loin, oyster & porcini mushrooms with chive spaetzle, which Austrians would be fond of if they could express that emotion.
Some of TB's most delectable dishes're served only on weekends, e.g., NY steak n' eggs with house potatoes, and Applewood bacon-aided Dulce De Leche pancakes -- deliciousness so intense, it'll deliver you directly to Heaven's Gate.