Atlanta's Best Urban Hikes Inside and Outside the Perimeter
You could use some air.
Presented By
Sweetwater Creek State Park

| JMcQ/Shutterstock
Sweetwater Creek State Park

| JMcQ/Shutterstock
This year has seen many of our favorite gyms, fitness clubs, and yoga classes slowly creep back to "normal," but we're still a long way from life as it was. In response to the widespread shutdowns last spring, many of us looked to the great outdoors and found joy in exploring some of the city's best nature trails, and over one year later, hiking still remains one of the best ways to pass time during the pandemic. Luckily, it's not hard for Atlantans to find a great hiking route, ITP and OTP. Here are 10 amazing outdoor trails across the city that are sure to keep you physically and mentally stimulated this summer.
Trail length: 4.7 miles
Sandy Springs
This scenic hiking trail at the Chattahoochee River National Recreation Area features historic Civil War mill ruins, a towering spillway waterfall, and covered bridge. Equally challenging and photo-worthy, the Vickery Creek Trail is a shady and gorgeous five-mile trek that'll be a great option for anyone looking for a stunning change of scenery from the popular hiking destinations inside the perimeter. Plus, while you're at the CRNRA, you can also hit the unpaved Cochran Shoals Trail, which is a go-to trail for 5k training.
Trail length: 2 miles
Brookhaven
Encircling the Murphey Candler Lake on the north side of Brookhaven, this woodsy, shaded trail is pet and family-friendly. It's not as secluded as some of the other trails on our list, but you're bound to see some wildlife (namely, geese and ducks), and the contrast between the city skyline and the treeline is pretty damn lovely.
Trail length: 1.9 miles
Southwest Atlanta
Did you know there is a natural waterfall inside Atlanta city limits? This hike leads you to it, and it's only 20 minutes from Downtown. You'll have to cross a forest, some streams, and a Civil War battlefield in order to get to the waterfall, but it's well-worth the effort. Make sure to bring your camera: You'll have numerous selfie opportunities inside the beautiful 120-acre Cascade Springs Nature Preserve.
Trail length: 2 miles
Stonecrest
The Arabia Mountain National Heritage Area may be minutes away from Stonecrest Mall, but you would never know when exploring its vast trails. A great route for families with kids and beginner hikers is the 2-mile loop through the Mile Rock Trail and Forest Trail, which follows an old rock quarry and the banks of Arabia Lake. Spring-time visits are especially scenic, as they present the perfect opportunity to see the park's rare diamorpha smallii in bloom.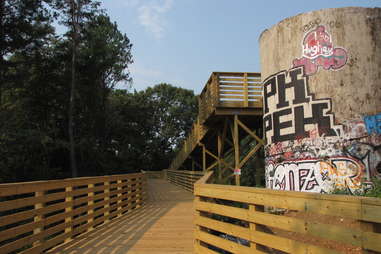 Trail length: 3.6 miles
North DeKalb
What it used to lack in distance, the trail was expanded in July 2017 from one mile to 1.8 miles (one way), so the scenic and elevation-changing loop now clocks in with some real-deal mileage. The paved boardwalk connects two parks in Decatur—Mason Mills Park and Medlock Park—as it meanders through tall trees and over creeks.
Trail length: 1.7 miles
North Druid Hills
Even though you're right off I-85, you would never know it hiking this trail in Kittredge Park. Mostly unpaved and running through the woods, this looped path encircles the small nature preserve, complete with views of its creek and a tiny waterfall. The park also has a playground, a sports field, and some picnic areas.
Trail length: 2.3 - 4.1 miles
Lithia Springs
Douglas county residents already know about Sweetwater Creek State Park's beauty, and you should too. The park boasts three trails—The Red Trail, The Yellow Trail, and the White Trail—which vary in lengths and scenery, but all rank at a moderate difficulty level. Civil War ruins, a thick fern-filled forest, and a tumbling whitewater creek await hikers for a vivid and memorable outdoor experience.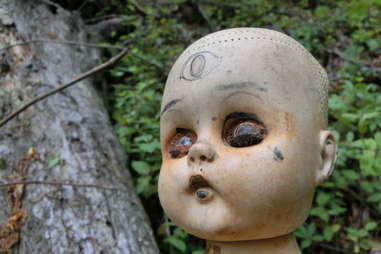 Trail length: 1.6 miles
South DeKalb
Considered one of the most unique hikes in Atlanta, this path is lined with objects found throughout the park—like doll heads (yes, multiple)—that are now displayed as folk art. It's short, but it's part of the 125-acre nature preserve Constitution Lakes, which boasts plenty of wildlife, marshes, and the "Sweetwater Goak" tree, Atlanta's second-tallest willow oak tree.
Trail length: 4 miles
Location: Northwest Atlanta
Perhaps the most well-known location on this list, this trail along the Chattahoochee River offers something to everyone, whether you're a novice hiker or an experienced outdoorsman. The path runs along the river and through the woods (!), which makes for some of the most scenic nature views in the city. There's also a bamboo forest and lots of rocky overlooks.
Trail length: 2.6 miles
Location: Northwest Atlanta
Like East Palisades, the Powers Island Trail follows the bends of the Chattahoochee River, but this path is less trafficked so it's better for those solo, "why are all Starburst independently wrapped?" type of hikes. This trail is mostly unpaved and narrow, but it has stunning views of the river and the Powers Island toward its end.
Sign up here for our daily Atlanta email and be the first to get all the food/drink/fun the ATL has to offer.
Joshua Robinson is an Atlanta-based contributor for Thrillist.