Not every beach-body-in-training requires a paid gym or yoga studio membership (or nickel-and-diming your way around Chicago's fitness circuit, as fun as it is). In warm weather, Lake Michigan and the Chicago River come with all the equipment you'll need to get in shape… or at least to get outdoors. So get your butt over to these waterfront hotspots for your next killer non-gym conditioning, and pocket any leftover dough for the post-workout beers.
If your regular yoga, pilates, and CrossFit classes aren't cutting it anymore, try doing it while balancing on a board surrounded by water instead. ChicagoSUP offers sunrise and sunset stand-up paddleboard classes at North Avenue Beach and Diversey Harbor, Chicago Water Sport Rentals will hook you up with a rental and lessons at 31st Street Harbor, or you can practice your downward dog at Montrose Beach.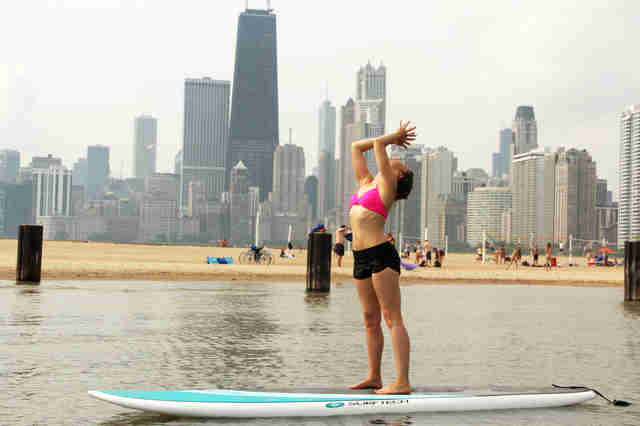 Outdoor yoga
There's nothing more serene than taking the studio to a hot beach packed with sweaty, sandy bodies, right? Sun & Moon Beach Yoga leads vinyasa-style yoga for all levels seven days a week (sunrise, late morning, and sunset) at North Avenue. FFC Halsted Street also teaches free Yoga by the Lake summer classes at Belmont Harbor, or there's always the aforementioned paddleboard yoga. Ohmmmmm.
River and lake kayaking
Get your heart pumping by maneuvering your way around architecture cruises, barges, sailboats, and crazy people attempting yoga poses atop paddleboards via kayak. Grab gear from any number of rental spots along the river or lake, like Kayak Chicago or Urban Kayaks.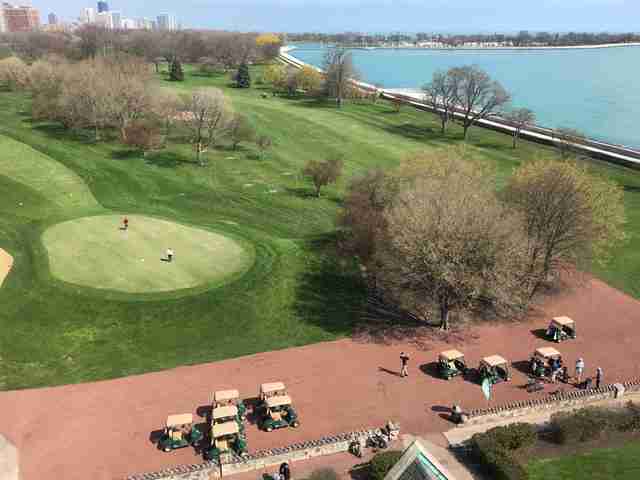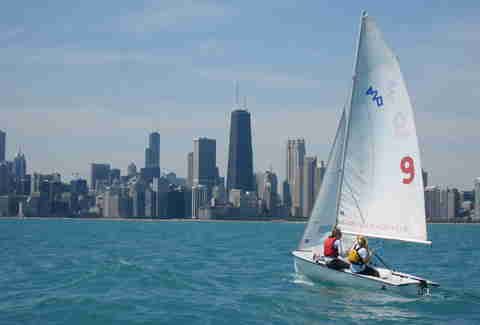 Sailing on the lake
Learn how to competitively race a sailboat (or just how to keep you and your loved ones afloat) on the open seas of Lake Michigan. There are numerous prestigious programs and clubs to help build or refine your nautical skills in the course of a summer. Try Sail Chicago, Chicago Yacht Club, and Columbia Yacht Club to find the right fleet for you.
Be the cool aunt or uncle by taking your exhausted sibling's kids to one of Chicago's newest playgrounds, where they're sure to tire of the slides at some point. Go on a park run, or head to the custom-designed 19,000sqft rock climbing wall that promises both excellent lake views and bouldering, lead-harnessed, and top-rope experiences for beginners and experts.
Break away from the overcrowded lakefront path to hit up the recently expanded Riverwalk for a quick lunchtime stroll through the heart of Downtown during the workweek, or check out the riverfront bar and music scene over the weekend.
This outdoor trapeze school near Belmont Harbor gives humans a chance to fly. Swing through the air and test your ability to trust someone will catch you at Trapeze School New York in Chicago during classes held throughout the week.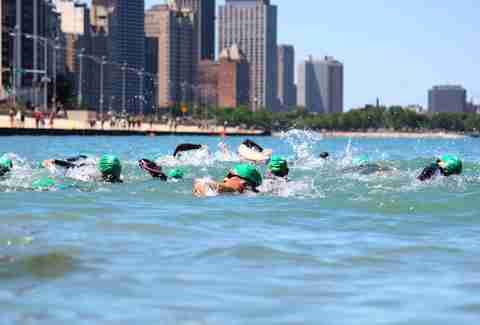 Lake Michigan's serious swim spots
Olive Park Beach (aka Ohio Street Beach), 12th Street Beach, and 57th Street Beach all offer ideal training spaces for triathletes to swim freely (in dedicated lanes) without crashing into the flocks of humans just bumming around in the water on a hot day. The 57th Street Beach provides an area for deep-water swimming near Promontory Point; just give the lifeguards a friendly heads-up first. Meet up with a community like Open Water Chicago to mingle with fellow outdoor swimming, fitness, and endurance-sports enthusiasts as you reach lake milestones together.
Those craving a high-intensity boot camp that'll zone in on strength, balance, flexibility, and endurance all at once can head to Ohio Street Beach for the Ultimate Beach Body Makeover. We'll be watching from the bar.
From short to distance (and casual to super-serious) running and cycling, clubs frequently gather at various points on the 18-mile path for social recreation. But if you'd rather forge your own path (and avoid the lakefront masses), try the riverside alternative along the North Shore Channel Trail, which'll take you from Albany Park to Evanston along the North Branch of the Chicago River.
Sign up here for our daily Chicago email and be the first to get all the food/drink/fun in town.