Health
Sponsored By
Here's Everything You Missed at Denver's #Phonetopia Pop-Up
Sponsored By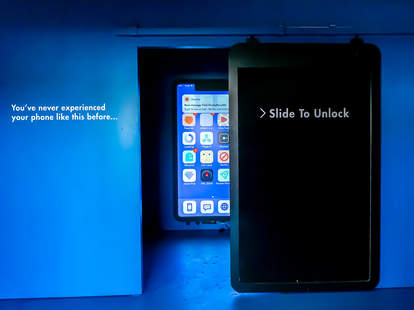 Think about what it's like on the inside of your phone. Wait! Not the boring circuitry. We're talking DMs, photos, and texts. The fun stuff. Now what if you could physically walk among it all? Sadly, the technology to Honey, I Shrunk the Kids yourself into the phone doesn't exist yet. But Denver's RiNo neighborhood got to experience the next best thing thanks to Visible. 
While Visible, a $40-per-month digital phone service, doesn't have any physical stores (or in-your-face sales reps, or contracts you need a magnifying glass to read, for that matter), they recently took Denverites inside their world with #Phonetopia. The mind-bending, immersive pop-up imagined what it would be like if you could literally walk inside your phone. At #Phonetopia, not only could visitors make Instagram content to their heart's content, but at night, there were live shows from musicians you know and love. Sadly, the event has come and gone, but to inspire you not to miss the next Visible pop-up, here's a look at what you missed: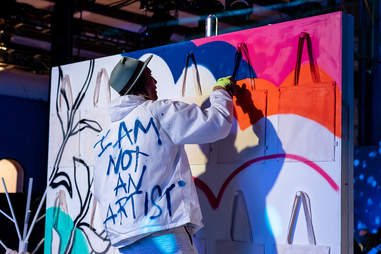 Courtesy of Visible
Part interactive playplace, part Instagram-ready art exhibition, and all fun 
Right from the jump, it was clear you were entering another world. Everyone was given a Calling Card when checking in, but not the calling card of the past. This Calling Card unlocked a huge part of the experience (more on that later). Once you had your card, a guide opened a sliding door to reveal a huge phone screen. It was time to enter your phone.
Dodge, scroll, and slide your way through the Notification Gauntlet
In real life, pop-ups and notifications come at you all day, and you probably swipe 'em away or ignore them. In the Notification Gauntlet, you had to physically get out of the way of those incessant notifications by squeezing yourself through a web of ropes surrounded by infinity mirrors. If you touched a rope, a notification alert went off, like if you got a text or a call. After you were done dodging, a perfectly placed camera would take a photo of you that made you look incredibly badass. 
From the Notification Gauntlet it was onto the Alerts Jungle, where you'd grab monkey bars and swing your way across a pit of red notification balls. At the end, another camera would take a super flattering photo of you from an angle on high. Next came the Infinite Scroll, a steep conveyor belt of missed calls, meeting invites, and new texts. At the very end you would "slide into DMs" -- but this actual-slide version was way more fun and much, much less awkward than actually sliding into someone's DMs.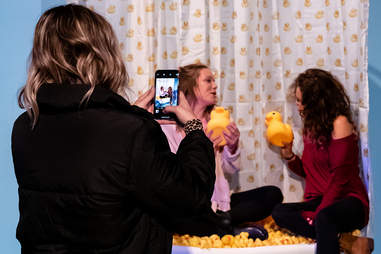 Courtesy of Visible
The Contentorium was the Instagram wingman you wish you had
Sometimes life can be boring, and there's not much to post to social media. But a visit to the Contentorium loaded everyone up with enough photos to last for weeks. If you wanted, helpful guides would snap a photo of you standing in front of an enormous banana (for scale!). Or you could sit on the edge of a bathtub filled with rubber duckies and do your best duck face. For people who only feel comfortable taking photos of themselves in a bathroom mirror, there was a perfectly clean one in which to snap the ideal selfie.
Game until you can't game anymore
In the SMS Arcade, you'd stomp on letters on a massive keyboard as quickly as you could in the super-fun game Text Text Conversation. The real highlight in the arcade -- outside of the boardwalk-style game Skeelol, the Ice Breaker arcade cabinet, and a game where you shoot a laser gun at annoying pop-up messages -- were the claw games to win free phone accessories and more.
Relaxing in the Airplane (Mode) Lounge
The Airplane (Mode) Lounge was the perfect place to recharge. Literally, there were plenty of places to plug in your phone, along with handy chargers, free water passed out by friendly flight attendant-types, and iPads broadcasting a legit-funny flight-safety video. While the video wouldn't be great for actually flying it was designed to keep you safe from… spending a ton of money on an expensive phone plan that ropes you in with a contract. Visible presented itself as the obviously better choice -- it's just $40 per month for unlimited data, messages, and minutes. It uses Verizon's 4G LTE network, too, so it's super speedy. (Plus, customer service is just a text away.)
Once your phone and your energy were fully recharged, it was time to head to the GIF(t) Shop.
Courtesy of Visible
The live shows were killer
The end of the adventure was when you became a star: TV screens broadcast photos of everyone conquering those physical challenges, and by scanning your Calling Card one last time, all those photos got emailed to you, giving you a ton of content for Instagram (or wherever). Behind a bar was way more Visible swag, including sunglasses, backpacks, and more, many of which were given as gifts for people who signed up for the phone service. 
The other side of the space turned into an intimate concert venue at night, where the lucky folks who RSVP'd got to see artists like Haim, Anderson .Paak, Maggie Rogers, and Kacey Musgraves grace the stage. Food trucks were slinging free street eats and complimentary drinks flowed from behind the Visible bar. Yes, this pop-up proved Visible could take Denverites inside a phone without shrinking anyone -- so it's no wonder that signing up for their affordable, unlimited phone service is as easy as swiping away a notification.
To learn more about Visible's $40/mo phone service, visit visible.com.